5-16-04
Trip Details
Location: West-Central Iowa and Franklin County, Kansas
Conditions: Sunny and warm. High of about 80 degrees.
Time: 11:00 am to 9:00 pm
Herpers: Jim Scharosch, Jeff LeClere and Dāv Kaufman
In April, Matt and I went to southern Illinois with Jeff LeClere and Mike Pingleton. During that trip, Jeff and Mike mentioned that they were going to Nebraska and Kansas for a week in mid-May. I thought it might be fun to join them for the Nebraska part of the trip, but thought I should opt out of the Kansas part, as I would have been there the week before. Matt said at that time that he would not be able to participate. So I went with my family to Kansas in early May and had a pretty good trip. As the time for the Nebraska/Kansas trip drew near, Mike, Jeff and I began to do some planning. It wasn't long before it became apparent that the Nebraska part of the trip was probably not going to happen, so I had no real reason to go having just been to Kansas. So, of course, I decided to go.
Jeff came down the night before we were going to leave and came to my birthday party. I drank way too much beer for a night before a herp trip and was feeling pretty shaky when I got up in the morning. There is nothing like starting off a week of hard herping and little sleep with a hangover. Jeff told me that Da¯v Kaufman, a friend and herping companion of his, was going to join us for the trip. I had met Da¯v quite a few years ago one of the Midwest Herpetological Symposiums, though I can not recall which one. Da¯v showed up Sunday morning and we loaded up and took off. We were to meet Mike and the Champaign, Illinois group in Wabaunsee county Kansas at 7:00 am Monday morning.
Jeff needed to drop off some Blanding's Turtles (Emydoidea blandingi) that he had trapped for photographing, so we stopped at a lake in west-central Iowa to release them. I took a few photos before Jeff let them wander back into the habitat they came from.
They were pretty neat to see.
While still in Iowa, we stopped off at an abandoned house along the road, and under nearly the first thing we turned, Jeff found a Red Milk Snake (Lampropeltis triangulum syspila).
It was the first herp of the trip and we were happy to start off with such a cool find.
We didn't stop again during the drive to Kansas, until it was nearly dark and we were dying to get out and walk around a little. We stopped at a gas station to fuel and noticed a loud clunking noise coming from the suspension. We crawled around, looking under the jeep for the problem, but couldn't see anything. We were all a bit nervous that we might get stranded somewhere, or miss out on herping time due to a vehicle problem. We decided to risk it, and went to a lake in Jefferson County and turned a few things. Dāv found an Eastern Yellow Bellied Racer (Coluber constrictor flaviventris) under a rock.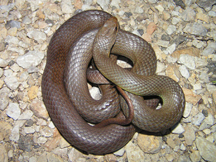 It was dark and I didn't take a lot of photos, knowing we would find more racers, and conditions for photography were not optimal. We cruised around a little on the roads around the lake but didn't find much so we headed toward our destination for the evening.