10-8-05

Trip Details
Start Time: 9:30 a.m.
Weather: Mostly sunny. Cool in the morning (around 55-60 degrees) with warmer afternoon temperatures (70-72 degrees). Low wind.
Location: Johnson and Jackson counties, Illinois
Herpers: Jim Scharosch and Matt Ricklefs, for most of the day we walked with Dan and Brian Wylie from Canada
Quote Of The Day: On The Road Again
There comes a time in snake season where you know it is coming to an end. So, what do you do? Go south of course!! OK, so that's not so easy. We don't all have time and resources to do this. For a fleeting moment however, Herpjournal did. Jim and I made a last minute decision to make a whirlwind trip to southern Illinois. Most of you will be able to figure out the exact location with the hints "on the road again" and southern Illinois.
The weather proved to be seasonal, but that was okay. The nights were a wee bit chilly. Since we wanted to wait for a while for the sun to warm up our final destination, we made plans to hit some junk and do some flippin' before walking all day. We reached our location and I found a cool praying mantis.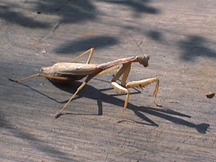 Of course Jim found a "Shawnee" Kingsnake (Lampropeltis getula holbrookii x niger).
We wrangled this one for a while and since it was still cool, we were glad for this first find. It was about twenty-eight inches long. Now in the midst of wrangling, we were able to capture what is arguably the "most unnatural snake pose" submitted for your approval.
Since the day was wearing on and we only had this one day, we moved on. On the way out to our car, Jim pulled a small Slimy Salamander (Plethodon glutinosus) from a dry ditch. It was about four inches long. Score two for the day.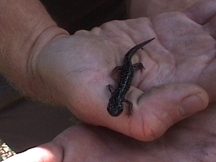 We reached our destination where we would spend the remainder of the day. We made the first find here at about 1:00 p.m. Jim spied a juvenile Timber Rattlesnake (Crotalus horridus) on the side of the road.
It was about twelve inches long. This was the first Timber we had found on the road. It was a pretty cool looking one.
The next find was from Dan. He found a nice sized Western Cottonmouth (Agkistrodon p. leucostoma).
This one was about twenty-eight inches long. We took some pictures, then moved on as we were sure to be seeing more of these. Soon after that, I made my first find. A eft phase Central Newt (Notophthalmus v. louisianensis).
Its name is literally longer than it was at a whopping one inch!!! In the same area, Dan also spied what appeared to be a good sized Black Rat Snake a ways back in a crevice. Its head was good sized, but it was beyond reach. We preferred to think it was perhaps record sized. Ha Ha.
Now when it's fall and you are working in mottled lighting in some areas, shadows and sun can cause some issues. Of course that's my story. We saw a ribbon snake and I said I would snag it. Now, as I went for it I lost it in a patch of sun. After a brief search we moved farther along and Jim spied two Western Ribbon Snakes (Thamnophis p. proximus).
Luckily I had scared the one that way...They were pretty nice ones as usual. They topped out at about twenty-six inches.
We moved on as it was nearing about 4:00 p.m. Dan found a nice juvenile Black Rat Snake (Elaphe o. obsoleta) that clearly had had a recent meal.
What looked like perhaps an unfortunate frog or small mouse was obvious in it's belly. It was up by some crevices and as it was full of food and headed for cover we took pics there without disturbing it. About the same time Dan's dad Brian found a juvenile Rough Green Snake (Opheodrys aestivus).
It was about eight inches long. As we did want to get some pics of one, we took a little time with this one as the others moved off. After our fill of pics, we caught up with the others. We would soon have another good cottonmouth story from "the road".
Dan had seen a cottonmouth go down a hole by a tree at the swamp's edge. He also saw another one covered with duckweed and coming from the swamp. It seemed to be "scenting" toward the hole where the first one went down. The second was about thirty inches long. We watched this unfold without disturbance. It was pretty cool. As the second found its way to the hole, it started to go down. When only a part of it remained outside of the hole, something caught my eye. The whole time a juvenile had been resting quite still by the tree. We were so focused on the two big ones that this one very stealthily moved toward the hole also, but in a straight line. It wasn't until it turned back up toward the hole that it caught our attention. It wasn't a cottonmouth falling off a cliff, but this was pretty cool also.
It was nearly 6:00 p.m. and we were losing light and warmth. We made our way to where we had parked and checked one last spot. On the way we found a Bird-Voiced Treefrog (Hyla avivoca) and I got some stills of it.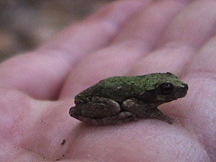 The "spot" I am referring to is the place for falling cottonmouths and also the location that field herpers familiar with the area affectionately call "the grotto". We spied some Longtail Salamanders (Eurycea longicauda)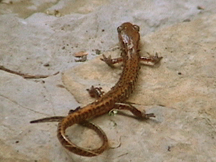 and Cave Salamanders (Eurycea lucifuga).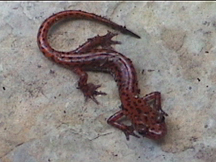 Dan's dad Brian spied about thirty scattered around and I got some "nightshot" pics of them back in the crevices.
That brought the day to a close. We toasted to a fair day and to a new friendship with our Canadian brother herpers.
We had a good time and shared some excellent herping stories. We ran into Ryan Thies, his brother Kyle and his dad Rich along the way so I got to meet them. We also ran into Greg Stephens, Nick Burgmeier and Mitchell Mimier, all regulars from the fieldherpforum, so that was very cool too. For a whirlwind trip it turned out pretty good.
That's if for this year! Until 2006 - Happy Herpin!!!