4-16-05

Trip Details
Location: Illinois
Conditions: Sunny. Temperature about 70 degrees
Time: 9:30 am to 2:30 pm
Herpers: Mike Pingleton, Ryan Thies, Rich Thies, Jim Scharosch
In Iowa we have a few isolated populations of eastern massasauga (Sistrurus catenatus). One of the populations is up in Bremer county, where I saw my first and only massasauga about twelve years ago. We have made many trips back there since that day and have not seen one. I have heard that nobody has seen any there since the early 1990s. Due at least in part to the difficulty involved in finding them over the years, and due also to interesting life history, the 'sauga is one of those snakes that I have always found fascinating. It was with all this as motivation that I set out to Illinois to find some massasauga.
Over the last few years I have had the priviledge of going on a few herp trips with Mike Pingleton, and this trip we were meeting up again. Mike knew of a location where we could see some massasauga in Illinois. We were to be joined by Ryan Thies from Missouri and his dad Rich. The weather looked really good, the sky was clear and the sun was shining. Perfect weather to see the 'sauga basking outside of the crayfish burrows they call home. Searching for 'sauga is much different than normal herping. You don't flip rocks or junk, you get into the habitat and walk, scanning the ground to spot the cryptic critters basking in the grass. It isn't easy, and I'm sure even the most well trained eyes will miss more snakes than they see.
We all met up at the local McDonalds and headed off to the first of two locations we would be herping. We got out of the car and started walking down the trail. Sauga's were known to be seen right along this trail, so we all had our eyes open. Well, kinda open anyway. Ryan's dad, Rich, was the only one of the group that didn't consider himself a herper. His hobby is storm chasing. He has been on many herp trips with Ryan though, so he does know what he is doing. As we were walking down the trail, Ryan says something like, "Hey guys, you missed something". We all came back and sitting along side the trail was a fourteen inch long garter snake (Thamnophis sirtalis).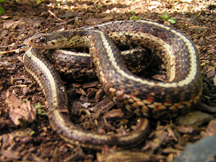 We were all so tuned in to looking for 'sauga that we had walked right by it. We got to the area we were going to search and started walking around the field, scanning the grass clumps for the little rattlers. We located a few more garters, I spotted a cat sleeping under a bush and Ryan saw a snake of some sort pull itself into a brush pile too quickly to be identified. We decided to head to another location before the weather got too hot in the afternoon.
We drove to the new location and Mike saw a vehicle he recognized parked there. He said it belonged to Mike Dereslik, the guy who was doing research with the massasauga at this location. He mentioned that he had had Mike give a talk to the herp society that he belongs to. We walked toward the area, and soon we met up with Mike and another guy that was helping him, John Warren. They had seen one massasauga so far that morning. They said we could walk along with them and help them look. We weren't there for more than a few minutes when Mike D, called out that he had found one, then he said there was actually two.
They recorded the position and took temperature measurements of the head, mid-body and tail as the snake laid on the ground. They allowed us the time to take a few pictures of the second of the two snakes, one that had did not show the marks of the snakes that were included in the study group. Mike applies paint to the rattles of the snakes in his study group to aid in quick identification. It was really cool to see a 'sauga after all these years.
We walked on and Mike D found another, but we didn't photograph it. As we neared the end of the area, Rich found an ornate box turtle (Terrapene ornata).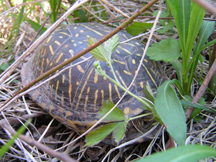 It boxed up when I went to take it's photograph, but it was still cool to see.
We started to walk back, again searching the grass for snakes. Mike D spotted a juvenile 'sauga, and a few seconds later Rich found another adult buried in the grass. Mike's got away down a hole before I had a chance to go look at it, but Rich's sat tight in it's thick covering of grass. The first picture was taken thru the grass, as the snake was found.
Rich began to razz Ryan mercilessly about how he would stop looking now so Ryan could find one. I'm sure that's not the first time he has given him the business when he has found a snake and Ryan hasn't. I was glad that at least one of the people in our group had managed to find one, since the score was 4-0 in favor of Mike D at the time. Mike told us he is out here every day working with the massasauga, that experience really showed in his ability to spot them. As an hobbyist field herper, I really appreciate the work done by real herpetologists in the field to study and protect our endangered herps. Mike and John were very knowledgeable and were happy to visit with us. I want to say thanks to them for letting us hang with them and photograph these cool little rattlesnakes.
After lunch, we herped around a some at some other spots in the area. Outside of seeing a couple more garter snakes and flipping an opossum under an old roof that was laying on the ground, we didn't see much else. We sat and talked for a while, trying to come up with a plan for anything else to do, but couldn't really come up with anything that didn't involve at least one person in the party having to drive a long ways out of the way. We decided to call it a day and said our goodbyes. I headed for Kankakee county to try to find another species I have had a difficult time finding, the hognose snake.