Weather: Mostly sunny. Winds slight at first then gusting in late afternoon 10-30 mph. High of 74 degrees.
Location: Jackson and Linn counties, Iowa.
Herper: Austin Scharosch, Jim Scharosch & Matt Ricklefs
Quote of the day: "Feels like a Milk Snake Day"
It seems like anymore we spend a lot of the spring in other states and do not have as much time to hit places close to home. This weekend we were able to get out to one of our "good spots" here in Iowa. The weather was very good and we got started at the right time of day. It was a bit muddy so we hiked in a little further than we sometimes need to.
On the way in we did find a few five-lined skinks, prairie ring neck snakes and garter snakes. Here is one Five Lined Skink (Eumeces fasciatus) that sat on a log long enough for a photo.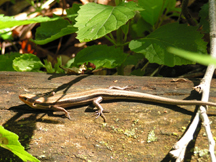 When we arrived to the hillside we found that it had been burned off. This burn was not fresh and it was needed in this area. It was at this point Jim mentioned that it felt like we may pull up a milk snake. This is an area that we do find them sometimes, but not regularly; although the habitat does support them. As it turned out, our first big catch of the day was an Eastern/Red Milk Snake (Lampropeltis t. triangulum/syspila).
We are in an area of integration and this can be seen in the milk snakes we find here. This one was approximately eighteen inches long. It had a high blotch count at fifty-one blotches, where most we find average closer to thirty-eight. The color was also good mix of darker red and tan. This is one of the prettier milk snakes we have found here for quite some time. It was a welcome find. After letting it loose we continued to look for one of the species we were most interested to find this day, timber rattlesnakes.
Although the day was good and the burned area opened things up it was another milk snake that we would find next. This one was slightly smaller at approximately fifteen inches. It was a little more brightly colored than the first one, and had a lower blotch count of forty.
We found it under a rock that was large enough to require both Jim and I to turn. There was also a skink and a Prairie Ring Neck Snake (Diadophis punctatus arnyi)under the rock. We did get some pictures of the ring neck snake as well. When turning rocks always make sure the rock is not too big for you. You don't want to accidentally let it loose and hurt or kill anything underneath or end you day with an injury. It is also good that if the rock is turnable, but not easy to turn and catch a species, to have a spotter. You can have a person turning and the other person can be ready to snag whatever is underneath safely and quickly. This can be particularly helpful in areas with venomous species. We were about half way through the area we were looking in, so after letting the second milk snake loose we continued our long hike to another area. At the end of this ridge, Jim turned a rock and found an old clutch of snake eggs, they appeared to be from a milksnake.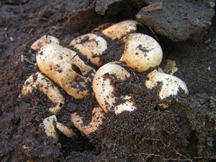 As it turned out, we did not find much else in this area. We saw a northern water snake in the river from a distance and found a few more garter and ring-neck snakes but no timber rattlesnakes on this outing. We walked back and observed a few bull and leopard frogs in some small puddles on the way out. During the trip we also saw indigo buntings and a scarlet tanager. Not herps, but cool birds. We also took one fair sized late season morel mushroom out to take home to cook so Austin could try it.
On the way back home we stopped by a roadside area that Jim and Austin had discovered. We found a few garter snakes, one being quite large. In this area is a rock that is way to large for one person to turn. Jim made a prediction and fortunately it came true, we found a very nice Fox Snake (Elaphe vulpina).
This one was approximately thirty-six inches. It was in very good shape. We by no means lit it up for the amount of miles we put in, but overall it was not bad. This was a good end to the day. We are planning a trip to Illinois this weekend so…
Until next time – Happy Herpin!
PS – From Jim – Notice I "called" the Milk Snake day and the Fox Snake under the rock!