Weather: Sunny with a few scattered clouds. Mild breezes. High of 68 degrees.
Location: Christian county, Missouri
Herper: Matt Ricklefs
Quote of the day: "Worm Hills"
Family vacations, if properly planned, can yield herpetological results. My mother-in-law had a week to use up from her timeshare. After weighing the options, my wife and I choose to accompany her to Branson, Missouri. I put in my vote for late April or early May with the disclaimer that I would get some time for herpin' in. Before leaving I sent out some correspondence and did some work on the internet to maximize my time. I had been down in this area before, but it has been about ten years gone. I knew before going that there was a cold spell coming. I also knew that I had to put in some family time. We arrived on Saturday. It was cool, in fact on Tuesday they had tied a record low of thirty-two degrees. The highs were in the mid fifties to a max of sixty-one degrees. It was pretty cool, but I knew it was going to get warmer, so we planned family time through Tuesday with herping on Wednesday through Friday. It also meant renting a car for three days so I could get out without disrupting any other plans for my mother-in-law and wife.
After my fill of Shoji and Yakov (both were actually pretty good) I was able to get to the real show – herpin'! I started out north of Branson, in Christian County. By the way, you can tell you are getting close to Branson when you start seeing DOR Armadillos. I wanted to see a live one, but never did. Anyway, herpin' southern Missouri means cedar glades. I started on one glade and only saw a glimpse of a fence lizard. I caught up with a park ranger and she told me the location of another cedar glade. The next one had much less traffic, as there was not as many trails or campfire spots. It had also not been burned off recently, but did have some good open areas. I spent most of my time here. After getting the lay of the land I found my first catch, a Western Worm Snake (Carphophis a. vermis).
It was pretty warm by now and it did not want to sit still very well. After working with it a little it finally calmed down a little. This one was approximately seven inches. It also had some girth to it. After working with this one a while, I let it go back under its rock. You really need to look under a variety of rocks, as there are a number of small, but cool species in the area including Carphophis. Since this area had produced, I just went in circles until I had exhausted the rocks. I did also see some juvenile Five-Lined Skinks and adult Ground Skinks, but it was warm and they did a very good job of eluding me…but I will keep trying.
After walking around a bit longer, I had my next find. It was not a herp however. One fun thing about cedar glades is the diversity. I have always liked the other critters of the area. As mentioned, you always see DOR armadillos and on the glades you can find tarantulas. That was my next find. I turned a rock and could see its burrow. I could just see its legs out.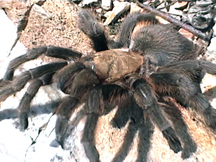 It appeared to be in molt as there were some leg casings under the rock as well. I had to coax it out of its burrow for some good shots. My snake hook was too curvy so I took a small weed and poked at it a bit. I could see it rearing up then it decided it had enough and came out to be big and bad. After some good shots, I let it go back under.
It took me a while but I did have another snake find. It was another Worm Snake. A little smaller, topping out at about 5 inches long, and was also getting ready to shed. After some time, I let it go its way and I went mine.
I left the glade and drove some back roads, but found nothing. The roads here often times have no shoulders so snakes in the road will be tough to get. I am typing this up "on the fly" and soon I will be going to play some mini golf. Tomorrow I have the planned route and the weather looks increasingly promising. I may be able to get out tonight and drive some back roads. I will also be able to get an early start tomorrow.
Until then, Happy herpin'!