2-17/27-05

Trip Details
Herpers: Jim Scharosch & Laura Scharosch
Location: Belize, Central America
My wife Laura and I went to Belize, in Central America, February 17 through 27, 2005. It was a trip for our fifteenth wedding anniversary. Our primary focus was vacation more than herping, so we went during the dry season, which we knew going in was not the optimal time to find herps. Our trip also coincided with the full moon. Before we left we spent some time trying to locate a local guide who knew anything about herps, but we were unable to find anyone. We got some advice from KCMatt, who had been there before and had good success.
February 18
We started off in the Cayo district. We stayed in the village of Christo Rey, south of San Ignacio. Our first morning we did a little road cruising to get a feel for the lay of the land. We found a very flat DOR snake, too flat to ID. It looked like it might be a Coniophanes of some sort, but I couldn't be sure. We knew we wouldn't find anything on the road as it was getting pretty warm and we wanted to walk around in the jungle some. We came to a place called Bol's Jungle Tours run by Fidencio Bol and he had one of his kids take us out on a hike around the jungle. It was pretty cool seeing all of the jungle plants, but the only herps we saw during a grueling trail hike were some Rosebelly Lizards (Sceloporus variabilis) on a rock pile near their camping area.
After we left there, we started to drive back toward San Ignacio. Around noon, we stopped at a small dump area along the road to flip some junk. It was already pretty warm and it was very dry under the junk we flipped. We did see our first Black Iguanas of trip here. They were extremely wary of humans here and took off as soon as we got near enough for pictures. I was bummed out that I didn't get any decent pictures, but it ended up being no big deal as we saw tons of iguanas later in the trip that were happy to pose for photos.
February 19
We didn't really herp during the day, we went to the Mayan ruin Xuanantunich. After that we decided to go for a swim at Big Rock Falls in the Pine Ridge Forest. When we were leaving we saw a small Brown Basilisk (Basiliscus vittatus) along the river bank.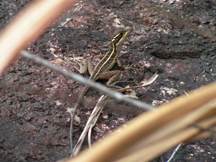 It wasn't too interested in posing for photos and watched me a wary eye moving off a little further each time I tried to get a little closer for a photo.
That evening, one of the local guides told us he would take us on a night hike down a trail where he had seen a number of Fer De Lance over the years. It was a cool area, and we hiked for a couple of hours and shined the trees, but we didn't see any herps. When we got back to our cabana, Laura discovered a Common Mexican Treefrog (Smilisca baudinii) on the water pipes under our sink.
February 20
We drove to Belize City, stopping at the zoo on the way and then hopped a plane to fly to San Pedro on Ambergris Caye.
February 21-22
We didn't do any herping our first couple days on the Caye, we were content to drink Belikin beer and hang out on the beach. We made friends with some other vacationers at our hotel; Patrick and Joey Mylan and Todd and Sherri Halfon and their son Nate. Todd and Sherri had rented a golf cart for the week and were kind enough to haul us all around on dinner and beer runs. It was pretty comical having the seven of us crammed into a four seat golf cart.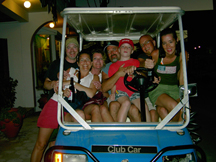 It wasn't like the picture though, there were two seats on the back of the cart. We made sure that when we were all on board, we avoided driving past the place where Todd had rented the cart. Speaking of beer runs, Belikin is the local beer, and we enjoyed a couple during our stay. A couple cases I mean.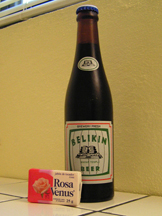 Most of the time, our only transportation was the bicycles the hotel had for guest use. We did see our only crocodile of the trip while riding our bikes in downtown San Pedro. As we were crossing a bridge, we could see a large Morelet's Crocodile (Crocodylus moreletii) basking across the lagoon.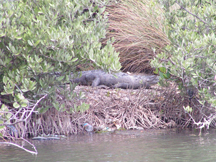 It was the only one we saw out of the water during the trip, except for a couple that a few of the local kids had on leashes and were carrying up and down the beach, looking for tourist dollars.
February 23
We got some bikes from the hotel and headed south on the only road out of town. The Black Iguanas (Ctenosaura similis) were all over the place here, and were a lot more cooperative for photography.
About 9:30 am, in a small road side junk pile, we saw an anole. I never had it in hand, but I am fairly sure it was a Brown Anole (Norops sagrei)
About 10:30 am, under a bamboo log, I flipped a Tuberculate Leaf-toed Gecko (Phyllodactylus tuberculosus).
It was only a couple of inches long and would not pose for photos at all. I didn't get a decent picture of it. I wish I would have taken it back to our hotel so I could have attempted to get some better photos. Our hotel clerk later incorrectly informed us that these geckos were deadly poisonous.
We also found a DOR Mexican Vine Snake. That evening as we were heading out for dinner, one of the friends we had made at the hotel, Patrick Mylan, spotted a small toad in the bushes. I stashed it in our room and the next morning we ID'ed it as Gulf Coast Toad (Bufo valliceps). It was tiny, maybe an inch long.
February 25
We didn't do any herping on 2/24. On the morning of the 2/24, Todd and Sherri went snorkeling and let us borrow their golf cart. We drove the cart to the far southern tip of the island. The iguanas were everywhere again, but it was already fairly warm by the time we got out. On our way back, at about 10:30 am, we stopped along the road at a place where someone had cut down a bunch of large grass clumps and left them laying on the ground. I flipped a small one and discovered that there was some moisture under them. Laura said, here turn this big one, and when I did I saw the unmistakable motion of our first snake of the trip. It was a Central American Ribbon Snake (Thamnophis proximus rutiloris).
I was kinda bummed that what I thought might be the only snake we would find on the trip was a ribbon snake as they are fairly similar to the ribbon snakes we find in the US, but it did have a cool orange color on the belly and under the chin. We found that snake under the second grass clump we turned, so, after photos, we eagerly turned every last one of those grass clumps and saw nothing but a few more anoles. Oh, well.
That evening the lizards were out in force around the hotel. We found a number of anoles running for cover in the bushes out front. The resident iguanas were basking.
I was out there with Nate, the nine year old son of the friends we had made at the hotel. We followed a couple of anoles around the bushes, looking for a decent picture. Later, Nate came over when I was laying on the beach drinking a Belikin beer or two and said he had found a big lizard. I figured it was one of the black iguanas that make their homes around the hotel, but he said it was up in the tree. I grabbed my camera and found the lizard to be a large male Brown Basilisk.
A few minutes later, I found another, smaller basilisk amongst the trees. I am sure the other hotel guests thought I was crazy crawling on my belly in the dirt to take photos of the lizard.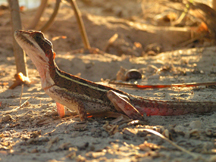 I was glad to see them, as the only one we had seen so far was the small one at the falls. A couple of the local kids had joined in by now, and one of them spotted another basilisk in the top of one of the bushes.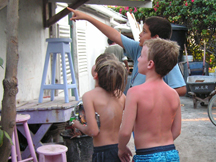 The lizard hunting boys. Nate is the one nearest the camera, the other two are locals.
He started yelling "Jesus Christ, Jesus Christ", which I thought was pretty hilarious. "Jesus Christ Lizard" is the local name for these lizards due to their habit of running across the top of the water when alarmed. We also found a Gulf Coast Toad near the bushes, but I think it may have been the same one from the other day, as it was the same size and we found it right where I had let the first one go. During all of this, one of the boys who works at the hotel, Sergio, asked what we were doing. I told him, and we talked about snakes for a few minutes. I told him we were going to go looking for snakes the next night and he asked if he could come along.
February 26
This was our last full day in Belize, and we had a golf cart of our own. We didn't herp during the day, but that evening, at sunset we set off in our golf cart with Sergio to shine the roads and trees for snakes. At the second area we stopped at, I spotted an adult female brown basilisk sleeping on a tree branch. I was able to walk right up and pick it off the branch. It was the first one I got to hold in hand. It was pretty cool to see one close up. A few minutes later, I saw something odd laying on one of the tree leafs, and figured out I was looking at a small snake. It was a Mexican Vine Snake (Oxybelis aeneus) about fifteen inches long. It was so tiny I was afraid it would break. We took a couple of quick photos, but decided it was too cool of a snake to only photograph in the dark.
We bagged it up and went on our way. We crossed the road and hunted the tree line, and found a sixteen inch long black iguana sleeping in a tree. It was the only iguana we caught during the trip. We went further down the road and walked across a grassy field to another line of trees. As we shined, I spotted another Mexican Vine Snake laying in the tree. This one was much longer, probably around four feet long. I was still amazed at how skinny they were. We decided to let the small one go back where we had found it and we bagged up the larger one for photos the next morning.
We were all starving, we had to get Sergio back, and we had had some problems with our golf cart not wanting to start. We were afraid of getting stranded and having to walk back to the hotel, so we decided to call it a night. I was pretty happy finding the vine snakes. Sergio was a really nice kid, who seemed genuinely interested in snakes. He didn't know much about them though, and held most of the same superstitious beliefs that a lot of the locals did. He was sure that Boa Constrictors were venomous, in fact, I think he thought all snakes were venomous. Earlier in the trip, we had purchased the book "Field Guide to the Snakes of Belize" by Tony Garel of the Belize Zoo. We decided to give the book to Sergio. Who knows, maybe the next time we are in Belize, he will be running his own reptile tour guide service!