9-16-06

Trip Details
Location: Jackson County, Iowa
Conditions: Variable cloudiness. Around 76 degrees. Fairly windy, gusts to 12 mph.
Start Time: 10:30 a.m.
Herpers: Matt Ricklefs
Account written by: Matt Ricklefs
Thought of the Day: Double Trouble.
As the end of snake season draws near here in Iowa, I made plans to get out a few last times. This weekend was forecasted to look pretty good on Saturday so I made plans to head out. Iowa played Iowa State, but I let the herps win out.
After a haircut in the morning (you need to look good for herpin' ya know) I headed to my uncle's place in eastern Iowa. The trip is about an hour and fifteen minutes depending on your driving speed. The weather was very much sunny then looked like rain, and back and forth throughout the day. Back home they were getting light showers by 11:00 a.m. but I encountered no actual rain. After visiting with my aunt and uncle for a few minutes I headed up the hill.
I worked pretty hard and had found nothing. As I was rambling on, I noticed movement at my feet. Soon a familiar form appeared. Bufo americanus - the American Toad.
Well, I thought I may as well get a few pics. It might be all I see today. I probably wouldn't have posted with just this, but since I found other species this was a nice addition. I hope I didn't spoil the surprise. I know, it just a toad, but I have a soft spot for Bufo. I did get this one a little worked up. If you look closely on the first pic you can see the milky secretion from its parotoid glands. The second simply shows the majesty that is BUFO (all glory to the Hypnotoad!!!).
I continued to work pretty darn hard. I had just gotten some new snake boots and they were pretty stiff, but were working out pretty good. For the amount of milage I was putting in I'm was glad they were working out. To this point all I had seen was a toad and it found me. However, on the top shelf of a limestone outcropping I was to be rewarded with my first snake. It was a juvenile Milk Snake (Lampropeltis triangulum).
This was just born this year by the size of it - approximately seven inches. It was a little uncooperative, but I was able to settle it down for a few nice pics. The first pic is pretty much in situ. I had flipped it, and it stayed in the area but not the exact spot. The next few were wrangled. And remember, a snake in the hand is worth two in the bush...
The subject of herping alone in an area where venomous species occur has been debated on FieldHerpForum (if you have never been to this site, check it out!). I think it's a good idea to have someone else around for safety. With years of experience many of us, including myself, do go out alone from time to time. When you know what you are doing, this can be safely done. There are of course other reasons to have someone else along. Sharing in the camaraderie of herping is always welcome time out. The exhilaration of shouting "found one!" to others is always fun. Yet, this day I was reminded of yet another reason. As I neared the edge of another rock outcropping, this one set a little more in the rough, I thought perhaps I could get lucky. This particular rock had paid off once before and it is a nice rock. Of course we all have had nice rocks that have yielded nothing, but many of us also know of that "special" rock or tin or wood that always rewards. Today I hit a double! Under the rock was not one, but two Timber Rattlesnakes (Cortalus horridus).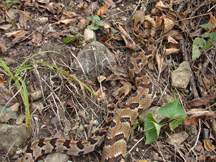 Both timbers
The big timber
The small timber
Now here I am - my camera in my backpack, supporting a rock on the edge of a rock outcropping. Two Timber Rattlesnakes, now out of cover, who I know will be taking off in about two seconds. And I am alone. Of course all of this played out as I would have expected. The Timbers took off and I had to tong them and get them up the hill a bit and in an area I could keep track of them. I gently placed the rock down and headed up toward the Timbers. Neither was in any mood to stay put, but they had not gone defensive either and just kept squirming away. I had to keep them still as I had yet to get my camera out of my backpack. This is where another person would have been invaluable. Even if they were a little ways away as is usually the case, they could have come to help wrangle with a call to arms. Once I got my camera out I allowed them to move about. The larger one fortunately settled under a rock nearby and I could keep an eye on this one while taking pics of the smaller one. The larger one was perhaps three and a half to four foot with a full rattle and the smaller was about twenty inches and had lost its rattle. As I was taking pics of the smaller one (after it became SLIGHTLY more cooperative) I noticed the larger one now venturing out from under the rock. I could not entice it to stay under. This brings up safety tip number two. When dealing with multiple venomous species at one time, alone or with others, you need to take special care to keep track of ALL of them CLOSELY. They can disappear very quickly and you could easily loose sight of them in proximity to you. That could turn disastrous. As it was, I was able to let the larger one go up the hill and it settled in some debris I could retrieve it from later. You also don't want to loose one of your subjects so take special care they do not find their secret escape hole or route! After some satisfactory pics of the smaller one, I needed to do some housekeeping. The larger one was still where it had settled and the smaller one was in a semi-defensive posture and was staying where it was. I went back to where I found them and replaced the rock as is and made sure it was how I found it. It had paid off twice (or three times depending on how you count it) and I wanted to keep things as is! After I was sure it was set back up right I allowed the smaller to go back under where it was. I knew it would stay there or go further down and not up toward me. Even though I would loose sight of it, I was still in a safe place to finish wrangling the larger one. I did need to re-train my eyes and found the other one right were it had been. After getting some good shots of this one, I also let it go back where it was. I had a pretty good adrenaline rush but I knew I would be pretty tired pretty soon - it had been a long day.
I did hit one other area. Although I did not find anything moving about in this area, I did find a Timber shed about four and a half feet long. I estimate it was about a week old as we had rain the weekend before and I think it may had been in worse shape had it shed before the rain. It was pretty dry so it was not less than a few days old. This was a good sign that this area I was in was the right one even if I did not find anything. That was it for the day. Not a bad day overall.
I would like to dedicate this post to the memory of a man who has helped shed (no pun intended) a positive light on the herp world, promote conservation on all levels and bring the beauty of all nature and animals to the forefront of people's understanding, awareness and appreciation. This of course is Steve "the Crocodile Hunter" Irwin. For years he has invited us along on his many adventures. His representation to countless young people of animals and nature as something to be understood and admired is commendable. His excitement and enthusiasm has always been contagious. Many a herper in this day and age has imitated the "Crikey - ain't she a beaut!" in their field hunts. In any job that takes a person within harms way, from working with animals to race car driving or many other things there is always a risk. It is unfortunate when someone becomes a casualty of their profession. It just reminds us all to be careful when you deal with things that can do the unexpected. We can only hope that his sharing of knowledge and his passion for nature and animals can make people understand what an important part of our world they are and that we all benefit from preserving it. From trees to ants to whales. The world has lost a great champion for its cause. The herp world has lost a close part of its family. Cheers mate, we'll miss ya!
Until next time - Happy Herpin'!