Conditions: Sunny. Around 64 degrees to start, up to a high of 76 degrees by the end of the day. A wind developed about 2:30 p.m., but was not too strong.
Start Time: 10:30 a.m.
Herpers: Matt Ricklefs
Account written by: Matt Ricklefs
Thought of the Day: Mmmmmmmm, chocolate milks.
I was fortunate enough to marry into a great family. I was even more fortunate to marry into a family where I now have an uncle and aunt that have a great herping spot. Jim and I have been going to this location for a few years now, but this was the first trip of 2006. Jim was in Kansas herping so I went it alone.
The weather looked very good from the forecast. I awoke early and had breakfast. I went outside and could see my breath; it was 44 degrees at 7:30 a.m. By 8:30 a.m. it had risen to about 53 degrees. The expected high was 73 degrees. As things were warming up quickly, I finished breakfast and headed out. The trip out is about and hour and a half.
Upon arriving I spoke with my aunt and uncle who really are great people, and then headed up the hillside. It was still cool but the sun was beginning to beat down pretty hard. In a clearing with partial shade but still sunny I found my first catch, a Five-Lined Skink (Eumeces fasciatus).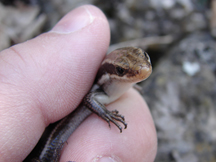 I caught it more for the fun and the fact that it was in the shade and cool. It looked like a female and was about five and a half inches long. I got only one pic before trying for a situ shot. As it was cool I though perhaps I could get it to pose. This did not work. Although I saw many more this day including some nice males with red developing on the head and some juveniles with the bright blue tails, all others found were later when it was warmer and under rocks in the sun. The skinks were rockets, and I didn't try really hard to catch them either.
My next catch was a welcome one and one that I planned to find; a Milk Snake. As you may have read before, this is an area of integration between Eastern and Red Milks, blah, blah blah.
We will just call this one Lampropeltis triangulum. I did get a good situ shot right after I flipped it. This one was a medium sized snake at about twenty inches. It had a more rusty/light brown color overall and I would say it had more of an eastern milk influence in it. This one was a bit grouchy at first, but calmed down and cooperated pretty well. After documenting I let this one go on its way. Not but twenty feet away I found another one.
I tried another situ, but it got cranky right away. I did get him where it was flipped even with it going defensive. This Milk was a tad smaller at about seventeen inches. This one was bit more dark brown than the first, again showing a leaning to the eastern variety. This one was definitely trying to show it meant business. It coiled and struck repeatedly and tagged me a couple of times. I was able to work with it to get some good pics though. After some time this one too went back into hiding and I moved on.
The next find was a bit later. It is also a species not found in abundance here as it is in other areas of Jackson County. The species I refer to is the Prairie Ring-Neck Snake (Diadophis punctatus arnyi).
This one was relatively small at about seven inches. I did take some time to try for some good shots just for practice. Ring-necks are pretty cool, but if you get out a lot you can see A LOT of them in some areas. In Kansas they are very common and one can get quite desensitized at this wonderful little species. This is a good place to discuss wrangling small species as well. When small species are encountered (and this includes juveniles of some species) getting them to pose for pictures takes a very delicate touch. These snakes can suffer damage fairly easily from mishandling. You just need to be careful when working with small species so you don't injure them. I did get some nice pics and this one was set on its way unharmed for the posing.
The day was getting rather hot now and there was a wind brewing. The wind was still not bad, but it was picking up. It was about 2:30 p.m. now and it was as hot as it would get this day. The last find was an Eastern Garter Snake; again with integration between species you can choose the name, but it did show some red-sidedness.
We'll just keep it at Thamnophis sirtalis. There was a old paper wasp nest found by it that did prove to be a nice picture companion. This one was small at about six inches. With all the herps this day, and as always, this garter was set on its way when picture time was completed. I suppose by now if you have kept up with herpjournal you realize that we just take pictures and document. This way we keep the herps there for future hunts.
That was it for the day. Although Timber Rattlesnakes are found here, I did not find any this day. Perhaps it is still a little early. Perhaps I just missed the right window this morning as referenced by the rapidly changing temperatures outlined above. Perhaps I was just not in the right place at the right time. It's probably a little of all of them. That's the way it goes. I did find some nice "chocolate" milks though. Mmmmmmm good.
Until next time, Happy Herpin'!!