5-23-06
Trip Details
Location: Linn County, Iowa
Conditions: Highs in the mid seventies, sunny
Time: 4:00-6:30 pm
Herpers: Don Becker, Austin Scharosch, Jim Scharosch
Linn County
Austin and I went out on a rock flipping mission with Don Becker. The site we were visiting has tons of rocks to flip and I have seen some nice stuff here in the past. Well, this trip it didn't exactly work that way. We flipped nearly every rock at the site, and found only a couple of eastern garter snakes. As we approached the end of the rocks, Don managed to find this young Yellow-Bellied Racer (Coluber c. flaviventris).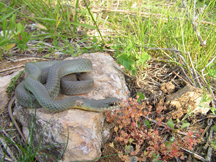 It had a decent amount of yellow on the underside of it's neck, unlike the one I had seen here earlier in the year. Since this was the first big snake we had seen and it was choosing to pose nicely, I took a few pictures. We cut it loose, and not more than a couple minutes later Don found another one on the crawl that ducked up under a big rock. We flipped the rock and pulled out this adult racer.
It was kind of beaten up, and I didn't spend any time photographing it. Not a great trip, but I was just glad we didn't get skunked.