6-26-06
Trip Details
Location: Linn County, Iowa
Time: 8:30 p.m.
Conditions: Breaking clouds. Around 65 degrees. Low wind.
Herpers: Matt Ricklefs, Janie Ricklefs & Wiley Ricklefs
Thought of the Day: Frogs!!
Account by Matt Ricklefs
I had been thinking the other day that we do not have a lot of Leopard Frog pics. They are all over and yet we have few pictures of them.
My wife suggested we take our Pug Wiley for a drive and maybe a walk. I thought this was a good opportunity to maybe find something out late and practice using the camera in twilight. We had had rain on and off over the weekend and the day was cool with a slight wind and the clouds were just starting to break up for the evening. We drove for a while then I decided to stop at a small marsh for Wiley to get out and smell stuff. As we walked the path Janie noticed something jumping around. Sure enough they were juvenile Northern Leopard Frogs (Rana pipiens).
Most were about an inch and a half long. Wiley had fun watching them. The grass was very wet and about thigh high outside of the freshly mowed trail so they were out in force bug hunting. I snagged a couple and took them back to the entrance to get some pics. Wiley was still looking for them when we got to the entrance.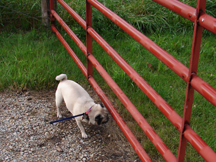 They both sat for a few then one took off and I got a few pics of the one left. After that we let them go about their business as did we. We drove on home, but not before a quick pic of a cool piece of rainbow.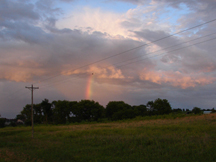 A short post, but what the heck.
Until next time - Happy Herpin'!