6-03-06
Trip Details
Location: Kankakee County, Illinois
Conditions: Sunny, high about 80 degrees
Time: 8:30 am thru 5:00 pm
Herpers: Mike Pingleton, Laura Scharosch, Austin Scharosch, Jim Scharosch
We got out over the weekend for our last spring herp trip. I wanted to get to Kankakee county yet this spring to take another shot at finding a hognose snake there. We were camping on this trip, so we arrived at Willow Slough on Friday evening and set up camp. We met with Mike Pingleton on Saturday morning and set out to see what we could turn up. Temps were supposed to warm up fast today, so we got out by about eight o'clock.
Our first stop produced nothing but racerunners, but at our second stop, I managed to flip this adult Bullsnake (Pituophis catenifer sayi).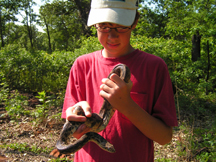 It was going into shed, so I didn't spend any time taking photos. It was nice to have found something right away though, to get things rolling.
The next site started off the same, with nothing but racerunners under the tin. I was walking up a small rise and spotted this adult bullsnake laying in the grass. This one was pretty, and wasn't shedding. It wasn't very cooperative for pictures, but I managed to get a few.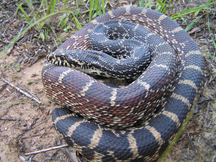 While I was taking pictures, Mike and Laura flipped a large sheet of plywood, and Laura thought she saw a brown snake. It turned out to be a juvenile Western Slender Glass Lizard (Ophisaurus attenuatus). The are fairly common here, but I had never seen a juvenile before.
On the way out, Laura and Mike spotted a racer on the fly. It was jetting back and forth, and I managed to get over there and help them corner it. Just as I was ready to grab, it went up into a tree. I caught hold of it's tail after getting torn to shreds by the tree branches. The snake bit me a few hundred times too. It was worth it though, as the racers here can be really nice. This one was a beauty, a Blue Racer (Coluber constrictor foxi).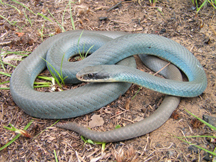 Me looking like a dork, showing off my bloody digits after "The Great Racer Chase Part 1".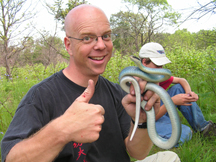 The ever vigilant Sir Campmaster Mike, Flippin' Wanderer, Knight of the Herptable, guarding the belly crawling creatures of the sand plains of Illinois from the evil baggers at a location that should look familiar to any that frequent the Kankakee area....
Our next few stops didn't produce much at all after much junk flipping. We ended the day at a site where Mike had turned up a really pretty bullsnake last year. After turning a bunch of stuff, as we were heading out, I flipped a large piece of building wrap and there was a large adult bullsnake under it.
It was warm enough now that it didn't want to sit still, but we managed a few photos.
Mike left at this point, and we hung out at camp for a while. Later we went out scouting for new locations, we found a spot that looked really good, but didn't find anything there. We called it a night, and went back to our camp to cook dinner and tip a brew or two.