4-26-06

Trip Details
Location: Wabaunsee, Chase and Geary Counties, Kansas
Conditions: Highs in the low 70's, mostly sunny
Time: 10:00 a.m. to 8:30 p.m.
Herpers: Matt Jeppson, Jim Scharosch
Early in the day in Wabaunsee County, I hit some of the old tried and true spots and there wasn't much out. I think the cold temps from the other day did me in. I found a few things.
Black Rat Snake (Pantherophis obsoletus)
Juvenile Eastern Yellow-bellied Racer (Coluber constrictor)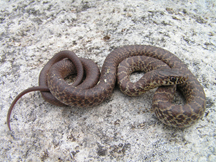 Later in the day, I met up with Matt Jeppson. We tried a spot in Chase County, but it wasn't very good. While I was waiting for Matt, I found this Eastern Yellow-bellied Racer.
We went to a spot in Geary county in the afternoon, and found these three Great Plains Rat Snakes (Pantherophis emoryi).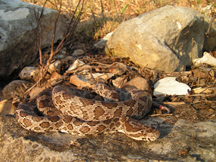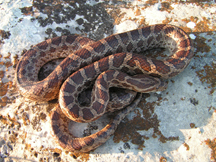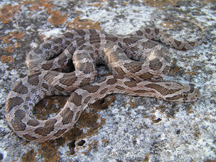 We also found this Ground Skink (Scincella lateralis).