5-11-06
Trip Details
Location: Jennings and Marion Counties, Indiana
Conditions: Cloudy, windy, rainy. Highs in the lower sixties
Time: 11:00 am thru 4:00 pm
Herpers: Mike Pingleton, Jeff LeClere, Jim Scharosch
Account by: Jim Scharosch
We stayed in a hotel last night because none of us relished the idea of pitching camp in the rain. We didn't hurry to get up too early, because we knew the weather wasn't going to cooperate with us. When we got a peak at the weather, we made the decision to cut our trip a day short and start to work our way north, back toward home. We also decided to make a couple of stops as we went through Indiana. Our first stop yielded nothing but a northern watersnake, which I didn't stop to photograph.
We moved on, and headed toward Indianapolis. We stopped at a location known to have Kirtland's Snakes, but we weren't able to locate any.
We managed to find a couple of Racers (Coluber constrictor).
As we were getting ready to leave, Jeff found this Smallmouthed Salamander (Ambystoma texanum). It didn't pose very well, it did the salamander hunching up defense, so my pics aren't very good. It was an additional species for the trip though, so that was kinda cool.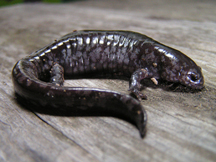 Here's Mike, getting the shot, with Jeff watching, looking really thrilled...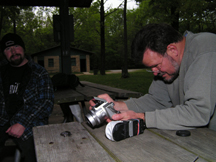 We headed out from there, dropping Mike off in Champaign and heading back from there to Iowa. The weather was just as bad in Iowa, and stuck around for days after that. On the way home we talked about other trips we would like to make, and made loose plans for future trips. That's part of the fun of herping with other guys, reminiscing about past trips and thinking about future ones.
This trip was a good one, and will give us some stories to tell when we get together again this fall or next spring.....