4-29-07
Trip Details
Location: East-Central Missouri
Conditions: Sunny and warm, high in the 80s
Time: 10 am thru 7 pm
Herpers: Mike Craven's, Brian Scheidt, Mike's dog Quinn, Jim Scharosch
Account and Photos by: Jim Scharosch
We got up and got ready to take off. We got kinda a late start, and the weather was warming up by the time we hit the road. It was me, Mike Craven's, Brian Scheidt, and Mike's dog Quinn. We started off flipping some boards Mike had laid out in a really nice habitat. We didn't turn anything up there. We then worked some really nice tin sites, and again, we struck out. This was starting to turn into a trend. We moved off and went to a nice glade. Nothing showed up here except a few fence lizards. We decided since it was getting really warm maybe we would be better off heading somewhere we could find some water snakes or something. On the way down to the swamp, we flipped a couple of really nice looking road side boards. Sticking with our current trend, there was nothing there. We found a DOR kingsnake on the road on the way in. It was really nice, pretty much exactly the king I was hoping to find in Missouri, now I just needed a live one.
As we drove into the swamp, we saw a Yellow-bellied Water Snake (Nerodia erythrogaster flavigaster) on the road.
I hopped out of the car and chased it down. It was a nice adult, and it posed okay for pictures. I wish I would have tried to get some pics of it belly side up, as it had a really nice yellow belly, and I don't have any good pictures of a real yellow belly.
We moved on and decided to hike along a pond edge to some hillside rocks. They were in a nice open area and looked like we should turn some stuff up. We didn't find anything there, though about a billion ticks managed to find us. On the way back to the car, we worked some rocks up higher on the hillside under the tree cover. High up on the hill, I went to look at a fallen log that had a couple of really nice big rocks near it. When I went to turn the first rock, I looked up to see an awesome Timber Rattlesnake (Crotalus horridus) tucked into the hollow at the base of the stump.
It was posed there perfect, soaking up the sun that was poking thru the canopy. I had not seen a timber from Missouri, and this one was really big. They are really impressive animals.
We moved on and as we drove out we found a couple of Cottonmouths (Agkistrodon piscivorus) on the road.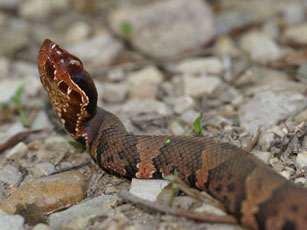 We saw another yellow-bellied water snake but couldn't catch it.
On the way out Mike and Brian poked around in a muddy little side stream for crayfish. I had never thought much about crayfish, but these guys were really into them. It's kinda like herping I guess. I never knew people were crayfish hunters, and a lot of people would never imagine that people would go looking for snakes either.
This pretty much ended our day, we headed off and set up camp and tipped a few brews.