4-30-07
Trip Details
Location: East-central Missouri
Conditions: - Warm and sunny, high in the 80's
Time: 9 am thru 1:30 pm
Herpers: Mike Craven's, Brian Scheidt, Mike's dog Quinn, Jim Scharosch
Account and Photos by: Jim Scharosch
After a good nights sleep in a nice quiet campground, we headed out for my third day of the trip. Again it was me, Mike Craven's, Brian Scheidt, and Mike's dog Quinn. Today we were headed for a mountain with a nice glade where Mike had found kingsnakes in the past, and had seen pygmy rattlesnakes on the surrounding roads.
It was a rough ride up the mountain, then we got as far as Mike wanted to drive so we parked the truck and hiked up to where the glades started.
The glades were really nice, with a lot of quality rocks to turn. We worked for quite a while without seeing anything. Eventually Mike called out that he had a Speckled Kingsnake (Lampropeltis getula holbrooki), but it was a last years baby.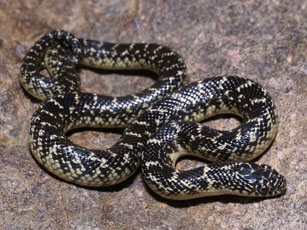 I was glad to see a king, but it didn't fulfill my desire to see an adult Missouri king. It also would pose for pictures.
After a while Mike found a flat-headed snake on the glade, but I couldn't get it to sit still for pictures. While I tried to get it to sit, Mike continued around the glade and said he was working his way back to the truck. I worked some rocks on the side of the glade and tried to work my way back to the truck. I headed down the glade too early and got myself lost. I felt pretty stupid. Eventually I worked my way back up to the glade, took a guess and found the road back to the truck. I was happy they didn't have to call out the search teams to find me.
We didn't see anything else there. We stopped off and checked Mike's boards again on the way back and again they didn't pay off. We checked some rocks on the way out and I snagged an adult racer. I didn't take any pictures of it though.
I had to take off early so I could get back to Iowa at a decent time, so that wrapped up the trip. Thanks to Mike for taking me out, and Brian and Quinn for hanging out. I kinda got to see both of the snakes I wanted to see, but not really. The trip was kinda slow for snakes, but that is the way these things go. Conditions can seem perfect and the snakes just don't cooperate. I may head back to Missouri again this spring to knock that kingsnake off my list. We are heading to a Cardinals baseball game this fall and I may take another shot at the crayfish snake then.