5-16-07
Trip Details
Location: Linn County, Iowa
Conditions: Windy, 60 degrees
Time: 4:30 pm thru 6:00 pm
Herpers: Austin Scharosch, Jim Scharosch
Account and Photos by: Jim Scharosch
Austin and I headed out this afternoon to check some new areas around one of the spots that we go to once in a while. I had seen some open areas in the forest while checking out maps on Google Earth, and thought the spots might have some promise. You gotta love technology.
We hiked toward our destination and came upon an area where Matt had found a milk snake the other day. We started to turn the various bits of cover. As we reached the end of the pile, Austin turned up two Milk Snakes (Lampropeltis triangulum), coiled together under cover.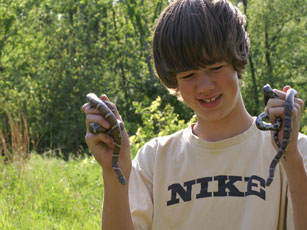 The larger of the two milks was the very chocolate colored phase we see once in a while.
It was probably around thirty inches long.
The second one was the more common brick red coloration. This one was around eighteen inches long.
After taking pictures, I asked Austin if he had turned the one last rock in the area, and he said no, so I turned it and found another milk.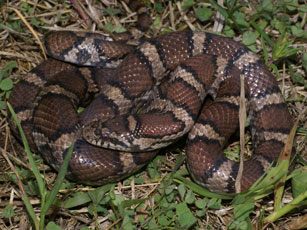 This one was a carbon copy of the smaller one Austin found previously, but it was going into shed so I didn't work hard at getting pictures. I'm pretty sure it was the same snake Matt had found here two days earlier.
We released the milks and hiked the rest of the way to our destination. The location was really nice, but with nothing to turn, we were unable to walk up any snakes. I'm thinking sometime a board or two might have to make their way back there somehow....