10-04-07
Trip Details
Location: Linn County, Iowa
Conditions: 55 degrees
Time: 5:00 AM
Herpers: Jim Scharosch
I was driving thru our neighborhood on the way to the gym this morning at about 5 a.m. In my sleepy state I thought I saw something move on the road a couple hundred feet from my house so I backed up to take a look. It was a Tiger Salamander (Ambystoma tigrinum).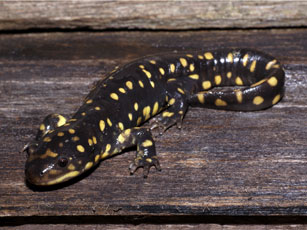 I don't really herp for salamanders much, especially in Iowa, so I don't see them very often. I took it home and took a few pictures then let it go.
Not much of a report, but hey, it's fall whatta ya want???