Weather: Partly sunny with gathering few clouds. Around 71 degrees. Medium wind. Gusts to about 10 mph.
Location: Pitkin Co. Colorado
Herpers: Matt Ricklefs
Account & photos by: Matt Ricklefs
Thought of the Day: Rocky Mountain High
My mother, wife and niece went out to Colorado to visit my aunt and as a present to my niece for graduating from Iowa State University. We drove. 833 miles one way from my driveway to my aunts. The drive was actually pretty nice and I really liked Colorado. My aunt lives near Denver. So why do you ask were we all the way out to Aspen? Well, you see, my mom is a HUGE John Denver fan. In Aspen there is a little park in town that is a tribute to John Denver. There are rocks with some of his songs etched into them and it was something my mom really wanted to see, so we ventured out.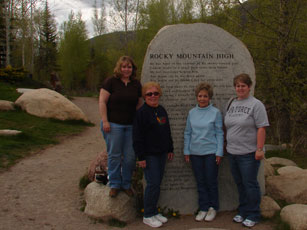 It is a beautiful drive and you really get to see the mountains. I had never been to Colorado and had never seen the Rocky Mountains. It is rather breathtaking.
We went to the park and as we walked to the area where the tribute was I saw a little rock area and there was what looked like a favorable rock. It wasnâ??t much, but I figured I would check it on the way back. We took in the tribute - donâ??t get me wrong Iâ??m not a huge John Denver fan like my mom, but it was nice and he was a pretty good dude overall. I have always liked his song Calypso among others. As we walked back I walked up to the rock and what did I see? A garter snake species I had not found before. It was a Wandering Garter Snake (Thamnophis elegans vagrans).
This one was laying out and was ready to move so I grabbed it. The rock had more air space under it than I thought, but I still turned it and found another. The first one (laying out) was a bit bigger at about twenty-six inches. The second one (under the rock) was about twenty-one inches. I photographed the one under the rock first then let it go on its way before photographing the second. Both were quite squirmy and did not want to pose much. I have also included a habitat shot.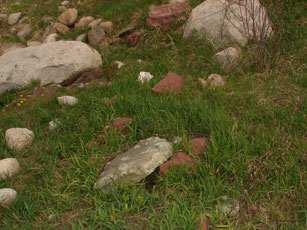 Not bad for not expecting to find any herps on this day. We had joked on the way out that since John Denver was such a nature lover that it would be logical that snakes would go to his tribute. Funny how things work out. On the way back we encountered a fun weather phenomenon, that I knew of but had never experienced. On one side of a major tunnel, it was nice out, fairly warm and sunny. It was 8:37 p.m. when we got to the other side it was 8:39 p.m. and cold, rainy and foggy.
Just another adventure in herping!