5-31-08
Trip Details
Location: Jackson County, Iowa
Conditions: Mostly sunny, high in the upper 70's
Time: Late morning thru early afternoon
Herpers: Laura, Austin and Jim Scharosch
Photos and account by Jim Scharosch
Today was probably going to be our last chance to get out as a family this spring for a day long trip. The weather was warm, it was already heating up as we drove to the spot in Jackson county.
We got out on the hillside, and worked some of the areas where we normally find timbers without seeing anything. We had just cleared a small open area when I spotted a Timber Rattlesnake (Crotalus horridus) crawling under a cedar tree.
I was unable to get an in situ shot because it moved off fairly quickly. I moved the snake to a rock and got it to curl up for pictures. It was just under three feet long, and a fairly typical light brown color that often marks Iowas timbers.
I really like this picture of Laura with the timber.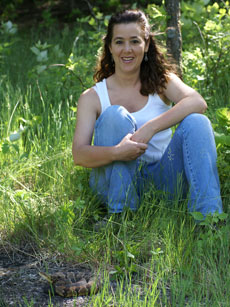 I finished taking pictures and returned it to it's previous location.
Not long after, Austin found an American Toad ()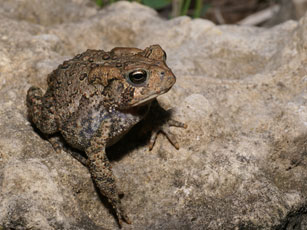 After that, I saw the red and black alternating colors of a Milksnake (Lampropeltis triangulum) on the crawl on the hillside.
I had to chase it down the hill to get it, but I didn't want to miss it. It was a nice milk, with bright red coloration for this part of the state. I don't very often find milksnakes on the crawl, so this was pretty cool.
About a thousand rocks later, I found this milk under a rock.
The snake sat still, in a decent pose, so I took some in situ shots and didn't mess with it. It was about twenty-four inches long. It had a large wound on it's back, which you can see in the first picture.
A few minutes later I found another milk. This one was smaller, about twelve inches long, and in shed.
Laura turned a rock and found some snake eggs from last year. They looked like milksnake eggs.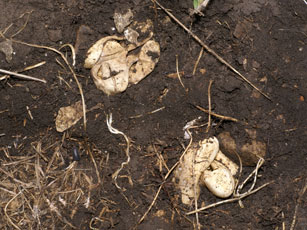 We walked the rest of the bluff without seeing anything else. We cut up to the top of the bluff to work an area where we had seen timbers in the past. I told Laura and Austin that this was an area to watch for timbers, and almost as if on cue, I spotted one laying at the base of a huge rock outcrop. It was another three footer, and I took some in situ shots and left it alone.
Not long after, Austin flipped this last-year's baby milksnake. It was in shed, so I didn't work at getting good pictures.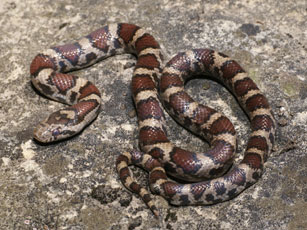 We worked our way back toward the car without seeing anything else. I decided I wanted to walk up a small road that led up the bluff. It was an area I hadn't been to in a while. I flipped a rock along the roadside and found this really nice milksnake.
It had a nice light background and a cool abberant zig-zag on the blotches right behind it's head. It was just under two feet long. It was a nice way to end a good trip.