5-15-09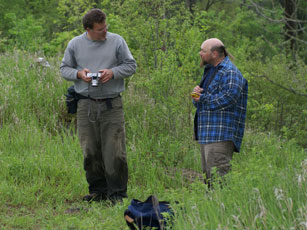 Trip Details
Start Time: 11:00 a.m.
Weather: Generally overcast with short periods of sun. Rain scheduled to move in that evening. 65 degree high. Medium wind.
Location: Linn Co. Iowa
Herpers: Mike Pingleton, Jeff LeClere, Jim Scharosch & Matt Ricklefs
Account by: Matt Ricklefs
Photos by: Jim Scharosch & Matt Ricklefs
Thought of the Day: Jimmy Dean sausage biscuit anyone?
For the next 3 days we would have our special guest herpers Mike Pingleton and Jeff LeClere in town. Today was going to be working close in Linn County as Jim had two musical gigs that evening. The day would start and end focused on the weather.
The morning started out slow as it was cool. Very cool. Like mid 40's cool. We took our time getting ready. We talked and ate breakfast – yes, Jimmy Dean sausage biscuits, Frosted Mini-Spooners and orange juice were on the menu. A hearty breakfast for wayward herpers. Some of the talk focused on the new movie Herpers, produced and directed by Dav Kaufmann. Mike, Jeff and Jim are all in the movie (as herpers…imagine that), and Jim even made it onto the promo poster. I should clarify at this point that no herpers were hurt (much) in the filming of this movie.
Eventually it got to a respectable temperature and we decided to head out. The first spot was a small area, as would be many of the stops on this day. The first find was a juvenile Fox Snake (Elaphe v. vulpina) about 8 inches long.
Photos by Matt Ricklefs
Not long after we were to find a juvenile Milk Snake (Lampropeltis triangulum) about 6 inches, and then another small milk in shed.
Photos by Jim Scharosch
We moved to spot number two and our first find was a Bullsnake (Pituophis c. sayi) about 4 feet long and another Milk Snake, both under one board.
Photos by Matt Ricklefs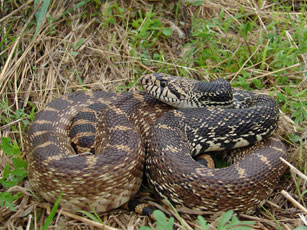 Photo by Jim Scharosch
This was the first find from this board so it was good to see it was getting utilized. The Milk had a lot of dark coloration on it and was pretty cool.
Photos by Jim Scharosch
We would also cover the color gamut on the Milks we found on this three day trek. A short while later we found another Bullsnake and Milk combo.
Photos by Jim Scharosch
This Bullsnake was about 5 foot long and was found on the crawl.
Photos by Jim Scharosch
While the first Bullsnake was quite calm this Bull was slobberingly cranky. It was funny that its tongue even hung off to the side of its mouth as we took pictures. After our fill of pictures we moved on to our next site. I think the Bull was glad.

Our last spot of the day yielded a Brown Snake (Storeria dekayi) that was getting ready to shed and was about 5 inches and an American Toad (Bufo americanus) about 4 inches.
Photos by Matt Ricklefs
This toad had a beautiful green coloration and I never pass a chance to get some nice Bufo pics. Jim managed to scare up a duck. Well, at least a plastic dead duck dog trainer that was left behind by someone. We had a little fun with this and I believe I heard reference to a Red Goose Shoes sign found in Illinois that was connected to Mike from a few years ago.
For getting a late start and having moderate weather the finds we good and we were very happy. The gig went well for Jim and the band that evening although rain that moved in cancelled the first and outside part of the gig and left just the later performance. The best part though was having the chance to hang out with Mike and Jeff. It had been a little while and between herping and an evening of music it was great being together. The best thing was we still had two more days of herping together!! Tune in for the next few posts – we guarantee a surprise!

Happy Herpin'!!!