5-16-09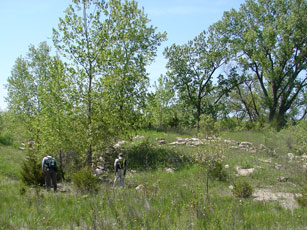 Photo by Matt Ricklefs
Trip Details
Start Time: 8:30 a.m.
Weather: Mix of sun with some clouds on and off. Cool - 64 degrees for a high. Gusty winds at first with calming in the afternoon.
Location: Iowa & Madison Co. Iowa
Herpers: Mike Pingleton, Jeff LeClere, Jim Scharosch & Matt Ricklefs
Account by: Matt Ricklefs
Photos by: Jim Scharosch & Matt Ricklefs
Thought of the Day: Is Matt losing his mind?
Day two of our three day Iowa Herptacular (that's your reminder mentioned in last post). We headed west from Jim's house and arrived at our first spot at about 10:30 a.m.
It was about 48 degrees and windy. It was not the best weather for herping and our expectations were low at this point. Our main quarry in was a Smooth Green Snake. Our first find was a large Fox Snake (Elaphe v. vulpina) about 40 inches long.
Photos by Matt Ricklefs
Photos by Jim Scharosch
It was quite nicely colored. It was also fairly inquisitive of the camera. Mike had found this and was soon to coin yet another one of his catchy and infectious phrases. The phrase, "Slap my hand were the wiggle was". The cause, or shall I say what the wiggle actually was, was in fact our first Smooth Green Snake (Opheodrys vernalis) of the day.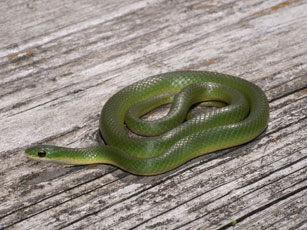 Photo by Jim Scharosch
This was our first since we have started Herpjournal in fact. Needless to say we were quite pleased. It was about 8 inches in length. We were to find one more Green Snake and a Brown Snake (Storeria Dekayi) at this location. The second Green Snake and the Brown Snake were both similar in size at about 6 inches.
Photos by Matt Ricklefs
These were all "on the crawl" and thus we did indeed have to "slap our hand where the wiggle was" as a technique to catch the Green Snakes, and the Brown Snake. On a nice and generous tip from some new found friends we had one other location to go to before heading further west. In the midst of some junk, we found another Smooth Green Snake (this one in shed) about 5 inches long and a beautiful Plains Garter Snake (Thamnophis radix) about 20 inches and quite hefty.
Photos by Matt Ricklefs
We also found a very pretty and light colored juvenile Fox Snake about 9 inches long.
Photos by Matt Ricklefs
While black cats are generally considered bad luck a grey cat who seemed interested in our company seemed to bring us some good luck here. I got a picture of the cat as it checked out my camera gear.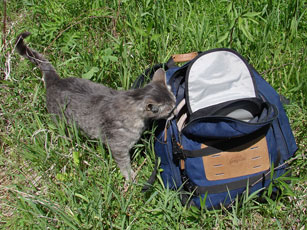 Photo by Matt Ricklefs
After that, we moved on out west.
It was now pretty sunny and a fair amount warmer, close to the high for the day. We hit a beautiful area and after flipping a Prairie Ringneck Snake (Diadophis punctatus arnyi) and having it stay put, I got a quick situation or "in situ" shot.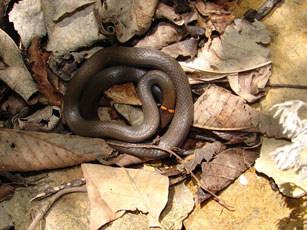 Photo by Matt Ricklefs
Not long after we rounded up a Gray Treefrog (Hyla versicolor).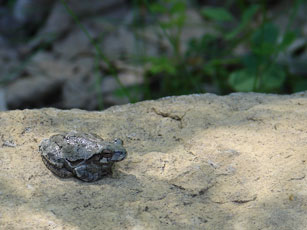 Photo by Matt Ricklefs
There are two similar species of Gray Treefrog that are hard to differentiate so for simplicity's sake I will just call the ones we found Gray and leave it at that. This one was about an inch and 1/2 long. Not long after that our first Timber Rattlesnake (Crotalus horridus) was found.
Photos by Matt Ricklefs
Photos by Jim Scharosch
We don't often post vertical shots, but here's one of the timber posed on the rock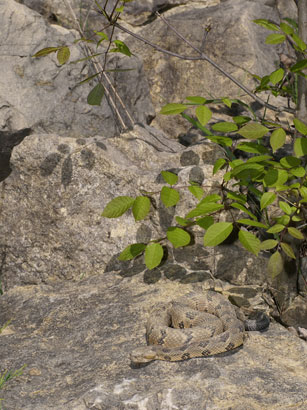 Photo by Jim Scharosch
As I made my way from where I was I noticed a familiar shape in the grass and there was a head staring right at me. It was our second Timber.
Photos by Jim Scharosch
The first was about 24 inches while the second was closer to 36 inches. About the same time Jim spied a juvenile Timber by a rock. We left it there as it was settled in nicely. We took some time to wrangle and document the two larger ones before moving on to check out the juvie.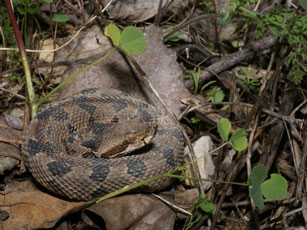 Photo by Jim Scharosch
We got some great in situ shots of this one. It was about 10 inches long. Along the way we also found a very nice Racer (Coluber constrictor) about 39 inches.
Photos by Jim Scharosch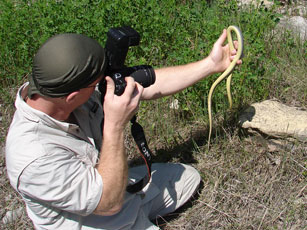 Photo by Matt Ricklefs
After that we found an even smaller Timber so we had quite a bit going on in a short time.
Photos by Matt Ricklefs
This smaller Timber was about 7 inches long. So basically we had a small, medium, large and extra large Timber at this point. And we were only half done with the day! Oh, the best is yet to come. All of the Timbers had recently emerged from hibernation as they were dust/dirt covered. We were able to clean off the two larger ones as they were found closer to water than the smaller ones. After we finished with this conglomeration we moved up the hillside and Jeff spotted a gorgeous Gray Treefrog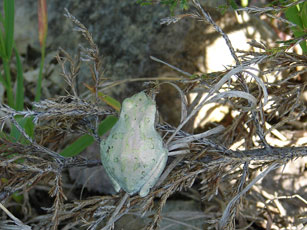 Photo by Matt Ricklefs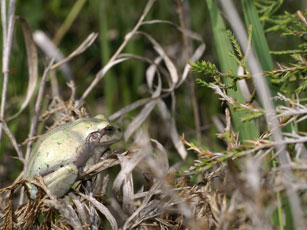 Photo by Jim Scharosch
This was an adult at about 2 inches, but it was extremely light green with an amazing bronzish iridescent sheen to it. I don't think we captured the true beauty in our pictures but this was essentially a golden frog. It was beautiful. The shots are all in situ as it was in a nice pose. Not far away we scored a large Milk about 25 inches long.
Photos by Matt Ricklefs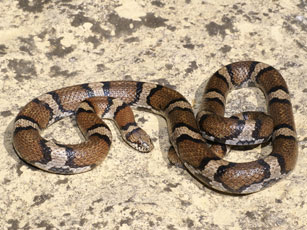 Photo by Jim Scharosch
Not far them there we found another medium sized Timber about 26 inches long. The Timber was coiled nicely in the grass and we got some in situ shots.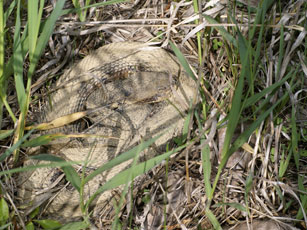 Photo by Jim Scharosch
If someone was not paying attention it would have been easy to step right on this one. Again we moved between these three subjects as the Milk needed to be wrangled as it was found under a rock, but the Treefrog and Timber just stayed put. This was it for this spot, but we had done very well.
The next location was a hillside that yielded quite a bit. Rather than itemize (which I could scarcely do) I will just say we found a large mix of Milk Snakes, numerous Garters, a Fox Snake, some racers and ...we'll get to that.
The following pictures are a mix of these snakes, in some semblance of order. Below is a sampling of the snakes we found on this hillside. Sometimes when you are finding animals in large quantities, it is difficult to stop and photograph them all. If you did, you would be out all day. Thus the number of in hand shots and marginal quality photos.
Photos by Jim Scharosch
Photo by Matt Ricklefs
We found an amazing number of snakes on this hillside and when all was said and done we found 26 milk snakes on this spot alone. Jim scored 4 under one rock. When you go out with a group of people this size, at least for us anyway, we are all close enough that any finds are shared by all. To this extent, we usually say "we" found this or that. A few times we will note a special find by someone, but we all agree that we all find things "together". I will also say that each one of us found our fair share of cool things this trip. So each of us also has that special moment of the flip or spotting something that is truly unique. We also make a point to get a few things (rocks, debris) that look particularly good together so not only are we all truly together, but we also all get that initial look at the same time. It is always a cooperative effort, as a whole this group has an amazing set of life lists, especially Mike and Jeff.
The day was coming to an end and we were coming to the end of the hillside. We had split up a little to hit the last few spots. I was covering the bottom part of the hillside and came across a large rock. Yes, this time I get to say "I" found something but I still have to say it was a group effort to the last. It had been a long but very productive day but I do have a fair number of years in the field and can identify any Iowa snake species in a split second. There's not a lot of species of snakes in North America that would stump me too much. I'm not really tooting my own horn because any serious herper could do the same, but when I lifted this rock I was stumped a bit. It was large enough to hide some garters and racers and...a Fox snake...no, wait, a Bullsnake. I grabbed a handful of snakes and when I yelled to the guys I went back to just that..."I got a Fox snake...no, wait, a Bullsnake...no, maybe a Fox Snake". I told them they needed to come see.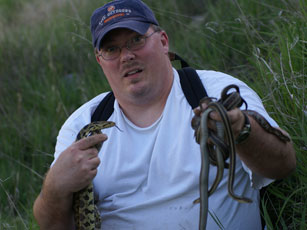 Photo by Jim Scharosch
Now with all these years of experience I couldn't tell a Fox Snake from a Bullsnake! For shame!!! Thus they thought I was losing my mind - stuffed clean full of wild blueberry muffins. I could tell as they come over. They really thought I had lost it. I kinda thought I had as well. However....
What greeted them was a fairly grungy snake. The poor thing had a fair part of its tail gone and a distended and dried hemipenis. Other than that it was fairly large so it had managed to survive for quite some time. It was about 38 inches long. Now the general descriptor to differentiate a Fox Snake from a Bullsnake is color and head shape. Fox Snakes generally have more uniform brownish blotches on a light background and have a round brown/coppery head. Bullsnakes generally have a more varied "stepped" pattern from tail to head with the overall color predominately yellow with brown and black markings and especially a yellow/straw colored pointed head. Size also plays into this. Once you pass the 4 foot mark it is more likely to be a Bullsnake by size alone.
Photos by Matt Ricklefs
Photos by Jim Scharosch
You can go back to the last post and earlier in this post to see examples of both a Bullsnake and a Fox Snake. Size wise this snake fit either. This snake basically had the body of a Fox Snake except for the end of the tail (what was left), but its head was yellow and pointed more like a Bullsnake. The markings were also "off" a bit. You can get the best idea from the pictures. As we pondered this we wondered if it might be just an odd looking Fox snake, or maybe a cross breeding of a Fox Snake and a Bullsnake. These are two different genuses (Pituophis and Elaphe) and combinations like that have been seen before but usually in captivity and selectively done. Occasionally a wild cross breed occurs like this one. We dubbed it a "Bullfox". We will leave it up to the viewer to draw thier own conclusion as to it's true nature. Needless to say we took some time to get the best pictures of this as we could. In the end I was vindicated as not raving mad or an idiot. (Editor's note - That still debatable...)
That was it for the day, but what a close! Our last quest was for food. After some searching we ended up targeting Granite City in Des Moines. Yes, we stopped at a gas station and washed up a bit, but still dragged our grimy, dirty, stinky, snaky selves into the restaurant. I even turned my dirty shirt inside out. Thankfully we were not noticed and recounted the fine day over a nice meal with good friends and a few beers and milk. One more day to go!

Happy Herpin'!!!