9-13-09
Trip Details
Start Time: 1:00 p.m.
Weather: Sunny. 74 degrees for a high. Mild wind.
Location: Delaware & Linn Counties Iowa
Herpers: Matt Ricklefs
Account by: Matt Ricklefs
Photos by: Matt Ricklefs
Thought of the Day: Gearing down for fall.
It was starting to show signs of fall and I wanted to hit one of my new spots again in Delaware County before the end of the season. The day was nice and so I was off.
My first find was on the road in. It was a Brown Snake (Storeria dekayi).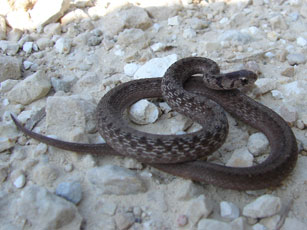 This one was about 7 inches long. I stopped for a few pics before moving on. I was to see a few more live and a few DOR Brown Snakes on my travels on the dirt roads I was on. The movement for winter was on.
At "my spot" I was to find what is now common for this spot, a Milk Snake (Lampropeltis triangulum).
This one was about 20 inches and was very nicely colored. It was partially out when I spotted it which is a little unusual and it actually remained fairly calm for some pictures which were a nice change from the super squiggles they often get. This was to be my last find of the year at this spot, but it is a promising area and I look forward to getting back there in the springtime!
I left for home but had one stop before I got there. At one of my locations in Linn County I found another Milk Snake.
This one was a bit smaller at about 14 inches and was a little darker. This one also posed fairly well.
My next find was a bit of a surprise. Although common but not always found when herping in this area it was nice to find a Tiger Salamander (Ambystoma tigrinum).
It was about 6 inches long and fairly typical for the Tigers I have found. As usual this one was squirmy, wanted to hide it head and was overall not very photo friendly. It also slimed me which is pretty usual.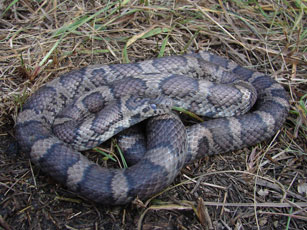 My last find was a 25 inch Milk Snake heavily in shed and relatively grungy. I did run the gamut on Milks though and this was a nice end to the day.
It is getting close to the end of the season. Hopefully there are a few good hunts yet to come for 2009. Until next time…