4-16-10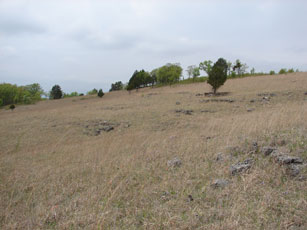 Photo by Matt Ricklefs
Trip Details
Start Time: 10:45 a.m.
Weather: Partially sunny with intermittent clouds with a high around 76 degrees. Short rain showers later in the day.
Location: Camden County, Missouri
Herpers: Wayne Brekhus, Jim Scharosch & Matt Ricklefs
Account by: Matt Ricklefs
Photos by: Jim Scharosch & Matt Ricklefs
Thought of the Day: I would walk 500 miles...
We had encountered a brief period of rain and some fair gusts of winds that night, but camping was good overall. We were in a bit of a valley so that did shelter us from the worst of it. After a quick breakfast we headed out. Jim had corresponded with Wayne and arranged a meeting time of 10:30 at our destination. This was my first time meeting Wayne although I had heard many good things about him from others, including Jim. It was a pleasure meeting Wayne and it is always nice to get out with fellow herpers.
We headed up our first area and spread out a little. That will become an important tidbit a little later on. I was able to get my first Rough Earth Snake (Virginia striatula).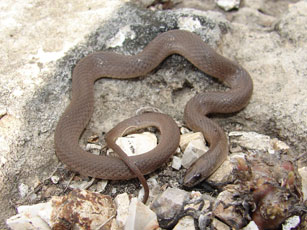 Photo by Matt Ricklefs
This one was about five inches I would say. I was also able to round up my first of many Ground Skinks (Scincella lateralis) on the trip. These are small guys at about three inches and that was the common size throughout the trip.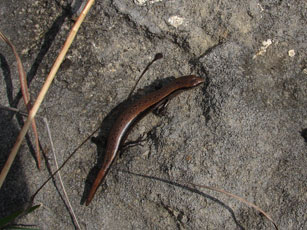 Photo by Matt Ricklefs
Wayne scored the first big find with a beautiful Red Milk Snake (Lampropeltis t. syspila) about twenty four inches long.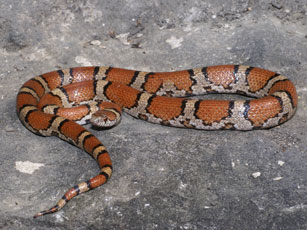 Photo by Jim Scharosch
It was not all that happy with sitting for pictures but we did wrangle up some decent pictures. This was a small area and we moved on to our next location.
Wayne scored again and this time with a double, two Speckled Kingsnakes (Lampropeltis g. holbrooki) under the same rock.
First King Snake:
Photos by Jim Scharosch
Second King Snake: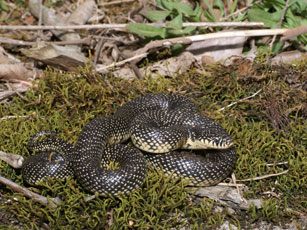 Photo by Jim Scharosch
These were smaller at about twenty inches but they were in good shape and had very nice coloring. We spent a little time with these and then headed on our way.
Our next find under a rock we all joined in on was a small Western Ribbon Snake (Thamnophis p. proximus) about seven inches long.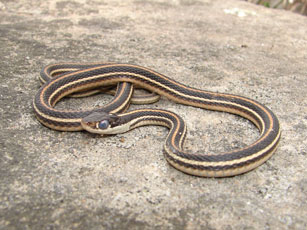 Photo by Matt Ricklefs
This looked like it was just coming out of shed. We took a few shots before going to the next area.
The next find was another Speckled Kingsnake.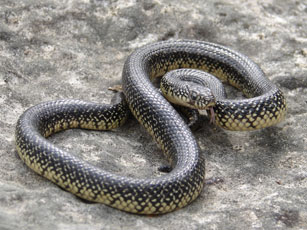 Photo by Matt Ricklefs
It was about the same size and was just a bit grungier.
We came upon a mighty rock that was turnable with all three of us; two turning and one spotting. This paid off with a three foot Great Plains Rat Snake (Elaphe g. emoryi).
Photos by Jim Scharosch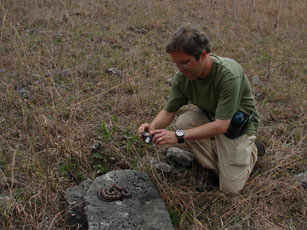 Photo by Matt Ricklefs
It was just beginning to shed and in areas the skin was already sloughing. We got some shots with another reluctant participant and then, after taking a little time to get this nice sized rock placed back where it was, we let the snake go back under its home.
Now earlier in this post I had mentioned that we spread out. Hillsides/glades can be quite extensive and while it is nice to have people close so when things are found it is a bit more efficient to spread out to cover a little more area. We hit the edge of a hillside and I went a little further to the right to look around some rocks in a small open area. I confirmed with Jim they planned to continue in that direction but just a little up and over. After I hit my spot I headed up and over too. The spot I had been in was nice and it took a little longer to cover than I thought. By the time I headed over I had lost sight of them. Darn! I went over a little further and still no sign. I went in the direction they were last headed, up, and still no luck. The hillside to the right was rather open and since I did not see them I headed a little more to the left. Still no luck. Double darn! OK, at this point I may not have been saying darn. I hollered. No reply. As I was up and to the left and it was getting windier I'm sure they could not hear me. I knew where we started and I knew they would head back that way so I herped some areas in that vicinity we had not hit. After a short while I noticed a familiar shape appear. It was Wayne. They had decided they had not seen me after enough time that he better double back and find me. Ironically they HAD been in the big open field. They had just been so far down the hill that I could not see them. Another lesson in herping areas like this, at least keep line of sight.
It was getting a little cloudier now and we looked like we could be in for some sprinkles. Jim found a Three-Toed Box Turtle (Terrapene carolina triunguis) under the ledge of a rock.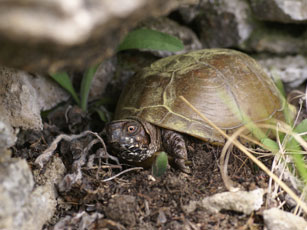 Photo by Jim Scharosch
I got a picture of a Texas Brown Tarantula (Aphonopelma hentzi) that Wayne turned up.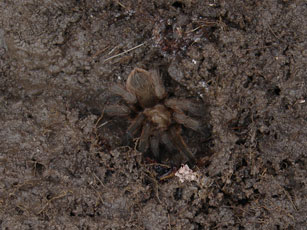 Photo by Matt Ricklefs
Finally I scored my "big" of the day. Upon turning a rock I saw the snake, I knew exactly what it was, but for some reason I could not get the words out. I had not found many of this species and perhaps I was a little rattled from being lost (ha ha) but I kept wanting to say Black Rat Snake, which came out as, "Bla-bla-bla...EMORYI!!!!". Then I was able to say Great Plains Rat Snake.
Photos by Matt Ricklefs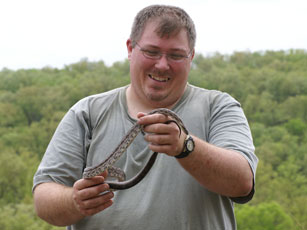 Photo by Jim Scharosch
This was about the same size as the previous one, but in a little better shape. We got some fair pics as it started to sprinkle and then moved on to our next spot.
Besides Ringnecks and some Flatheads we turned up our first Western Worm Snakes (Carphophis vermis).
Photos by Matt Ricklefs
The biggest was about six inches. We got some fair shots of these as they were the first of the trip.
At that point Wayne needed to get home to celebrate his wife's birthday. A true herper like Wayne always finds the balance between getting out and other priorities. :)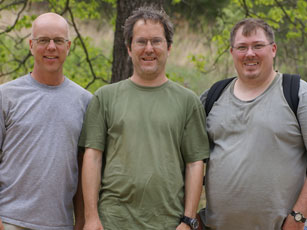 Photo by Jim Scharosch's Camera (ha ha)
Jim and I had a few hours left to herp and get to our next camping location. En route we found a Three-Toed Box on the crawl that I stopped to get a picture of.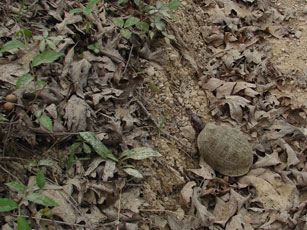 Photo by Matt Ricklefs
On the way to camping we found an old vacant trailer home and nosed around. We did find our first Dwarf American Toad (Bufo americanus charlesmithi) that we got some pictures of.
Photos by Matt Ricklefs
This one was about two inches. On the last board in probably the worst spot in the area we turned another Speckled Kingsnake.
Photos by Matt Ricklefs
This one was a little smaller at about eighteen inches. The board was also home to termites that I had to take a picture of.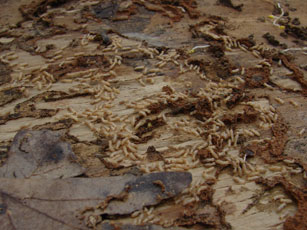 Photos by Matt Ricklefs
That was it for day two. We headed for our next spot which I had been to before but Jim had not. The morning of day three would yield a very interesting find as would the afternoon...
Tune in for the next post true believers, and have a Herpin day'!