4-18-10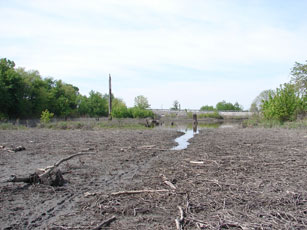 Photo by Matt Ricklefs
Trip Details
Start Time: 10:43 a.m.
Weather: Cold Morning. Day ended up being sunny with low to moderate winds. High of 75 degrees.
Location: St. Charles County, Missouri & Jersey County, Illinois
Herpers: Ryan Thies, Brian Willey, Jim Scharosch & Matt Ricklefs
Account by: Matt Ricklefs
Photos by: Jim Scharosch & Matt Ricklefs
Thought of the Day: That's some serious hiking in Bigfoot country.
As you may recall we ended the previous day with a nice Mexican dinner, a good campfire and some fine beer. The night got cold. I woke up at about 4:00 a.m. to "use the bathroom" and it was really cold. We did not realize until the morning how cold it was. When you take your tent down and there is ice on your rain fly, it was cold. In fact by reports that morning it must have gotten down to the high twenties to just below thirty-two degrees. We torn down quickly and chose to forego making breakfast and hit the golden arches. By that time we were actually warming up.
Jim had arranged to meet Ryan and a few others at our first location about 10:30 a.m. we had a little ways to go so we headed out. By the time we got there it was sunny and warming nicely. Ryan Thies and his friend Brian Willey arrived and we exchanged hellos and some interesting stories before heading out. Ryan and Brian are a couple of good guys with a great sense of humor. We all jibed each other most of the day and kept the laughs up. It was a good time.
We hit some backwaters on the Mississippi and Brian found a group juvenile of Northern Water Snakes (Nerodia s. sipedon) under some bark on a fallen log.
Photos by Matt Ricklefs
A little while later we turned up a Diamondback Water Snake (Nerodia r. rhombifer) out basking by rocks on the bank.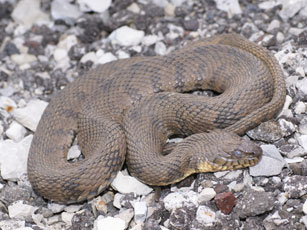 Photo by Jim Scharosch
As we walked on a different part we saw an adult Northern Water Snake hiding in some branches on the bank.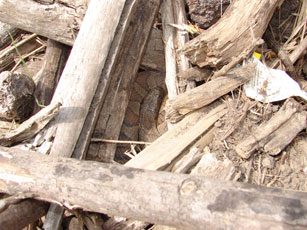 Photo by Matt Ricklefs
Our main find had still eluded us. We walked a fair amount on a bank where the water was pretty high. There was not much of a bank, but we did have some exposed rocks. After a while Brian stood there chuckling lowly with something in his hand he had found. It was the snake we were looking for. It was a Graham's Crayfish Snake (Regina grahamii) about eighteen inches long and in pretty good shape.
Photos by Jim Scharosch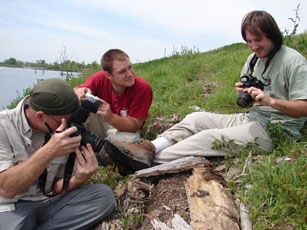 Photo by Matt Ricklefs
In fact, it looked to have a nice meal in it. We were careful with working with the snake as not to have it regurgitate its meal. We did want to get some good shots though. This was one of the other animals Jim had been coming to Missouri to find for the last couple of years and was one of the primary targets of our trip. It was nice to get it. We quit working in this area since we had found our prize and had a couple other stops we still wanted to get in. We also had a ways to go to get home that evening.
Our next stop was across the river at a good but quick tin site in Illinois. Our first find was a Northern Ringneck Snake (Diadophis p. edwardsii) about seven and a half inches long.
Photos by Matt Ricklefs
It kept biting itself presumably as an attempt to bite us, which was unusual. That was our only find here other than some quick Racers out on the jet so we moved to our last location.
Our last spot was a glade. And to get to this glade we had to hoof it cross country over the mountains, through the streams, in bug infested territory with Bigfoot's chasing us. OK, maybe I am elaborating a tad but it was a good walk through some really hilly forest. The glade was relatively small compared to some of the vast open glades in Missouri but it was very nice. It was a good area to herp with four people. The first find was made by Jim, it was a nice eighteen inch long Red Milk Snake (Lampropeltis t. syspila) in shed.
Photos by Jim Scharosch
Soon after that, Ryan came up with another milk snake, this one about twenty two inches long.
Photos by Jim Scharosch
Soon after I managed to snag juvenile Milk about nine inches long.
Photos by Matt Ricklefs
I took some funny shots of it actually in the "hide" dish rather than under which is common for staging squiggly snakes.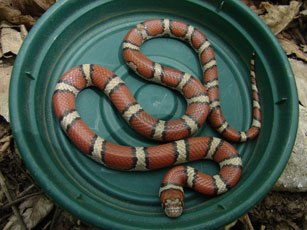 Photo by Matt Ricklefs
The next find was a nice Eastern Garter Snake (Thamnophis s. sirtalis) about nineteen inches long.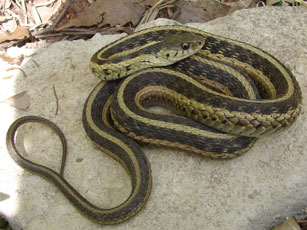 Photo by Matt Ricklefs
I got a few pictures of it and it got a nice bite of my hand. We also found a Racer (Coluber constrictor) about fifteen inches long and blue-eyed and I got a few quick pictures of it.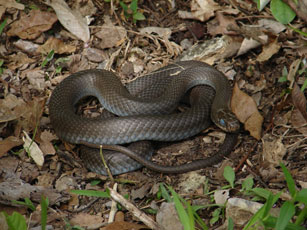 Photo by Matt Ricklefs
In a large jumble of rocks we I managed to get a double, two Copperheads (Agkistrodon contortrix) under one rock. As we all moved in to see they were pretty warmed up and bolted. One went toward the rocks and I grabbed one. It got a little too far in before we could retrieve it without harm. We went back and searched around to see if it went under and stopped but it had too many place it could go. We did get some nice pics of the one we had.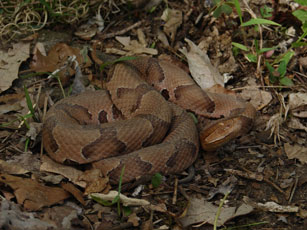 Photo by Matt Ricklefs
I'm not sure what Ryan found so funny, but probably something Brian was razzing him about.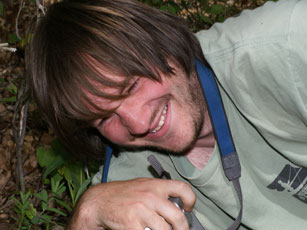 Photo by Jim Scharosch
Our next find was a nice Racer. This one was pretty dark but was in good shape.
Photos by Matt Ricklefs
We decided to head out and on the way we found a Longtail Salamander (Eurycea longicauda).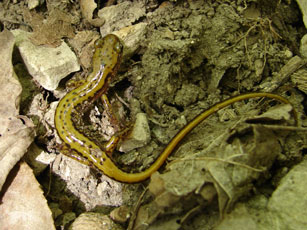 Photo by Matt Ricklefs
As we were walking the trail, we heard a "snakey" sound and spotted another milk snake on the crawl. This one was pretty grungy and was blue eyed, as it prepared to shed.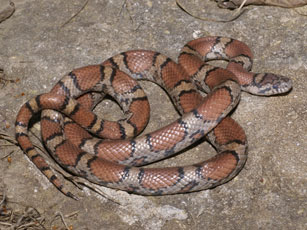 Photo by Jim Scharosch
We gathered for the inevitable herpers group shot.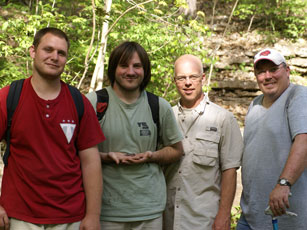 Photo by Jim Scharosch
Yeah, that's another milk snake in Ryan's hand. He found it under a rock in the little area where we had parked.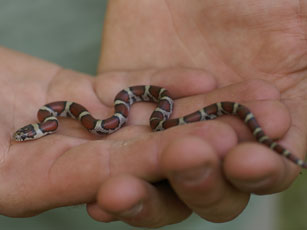 Photo by Jim Scharosch
It was a good day, and a great way to end the trip.
We gave our thanks and well wishing and made the long trip home. It was a great trip and we found most of our targeted species. We got out with a lot of good herpers that I was finally able to meet and we put some serious work in.
You get out what you put in so happy herpin' till the end!