5-04-10
Trip Details
Start Time: 4:30 p.m.
Weather: Mostly sunny, high of 80
Location: Benton County, Iowa
Herpers: Jim Scharosch
Account and photos by: Jim Scharosch
It was an eighty degree day today, and predictions were for the temperature to drop the next few days, so I thought I would try to get out for a while after work. My back was still a bit sore from our trip on Saturday, so I decided not to go to any areas where I would have to turn heavy rocks. I went back to the area where I had seen the ornate box turtles this spring, since that is an area that involves only walking and hoping to scare something up. It's not my favorite kind of herping because it can be very hit or miss. Well today it was very miss. I didn't see anything at all.
I decided to stop off at an park along the Cedar River in Benton county that I had been to before and check out a different part of the park. I walked a long trail, and again found nothing. Deciding I didn't want to get skunked for the day, I decided to flip some small rocks along the river bank, hoping to find a water snake. The first rock I turned had a baby Northern Water Snake (Nerodia sipedon).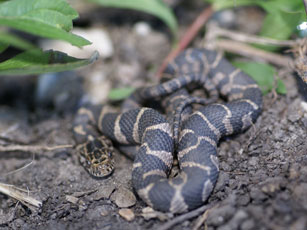 It was about four inches long. I took one picture, looked at my camera, looked back up and the snake had vanished. That's why the picture sucks. That was all I found there.
I decided to stop off at another area I had seen from the road but had never stopped at before. The second rock I turned had a last year's baby Eastern Garter Snake (Thamnophis sirtalis).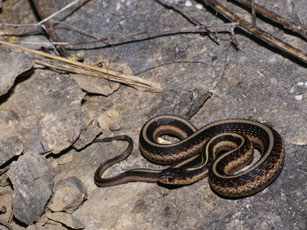 It was about seven inches long. Still not enough to post on the website, but at least I wasn't skunked. A little farther along, I turned a nice looking rock and found a cool little Milk Snake (Lampropeltis triangulum).
Now I had a post for the site. It was about eighteen inches long. Even after seeing sixteen milk snakes a couple of days prior, it is still always nice to see one more, especially in a new spot.
There were other nice rocks, but nothing else was found. It was a nice end to an otherwise uneventful trip.