5-17-10
Trip Details
Start Time: 1:15 p.m.
Weather: Mostly Sunny, little wind and about 73 degrees.
Location: Madison County, Iowa
Herpers: Jim Scharosch & Matt Ricklefs
Account by: Matt Ricklefs
Photos by: Jim Scharosch & Matt Ricklefs
Thought of the Day: A sign to herp!
The total miles we would end up with when we got back are 1,717.6 miles. The last day proved to be the longest. The forecast for both Kansas and Iowa were unfavorable; cool and cloudy with a good chance of rain. Having this right after the previous day being about the same would put anything further down where they were hiding if they had not gone already. Sure, some stuff would be out, but overall it was not looking good. We did formulate a few plans the night before and as it turned out, we went with plan A. That plan was to get up whenever we did, get packed and head home. When we got up it was cool and cloudy as predicted and when we finally got going ran into increasing rain. It seemed like we had made the right plan as it didn't plan to break in Kansas until later in the afternoon and we needed to be back this day.
We were not far from Des Moines and it started to clear. This was not predicted. We were in Madison County and getting close to the exit we would usually take to herp and the clouds broke and the sun was out. It was warm and we took this as a sign that we were meant to follow the path we did. It broke just as we got to the only other place we had discussed herping at. So, of course, we exited and went to a location we had. At this point the weather could not have been nicer. Ironically we did not find anything at our first location. Maybe not a sign? We still had time and we still had a good hillside to hit.
Ah yes! This time, under the second large rock we turned were two very pretty and nice sized "Madison County" Milk Snakes (Lampropeltis triangulum).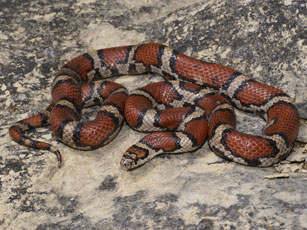 Photo by Jim Scharosch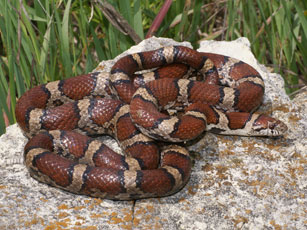 Photo by Jim Scharosch
Both were about thirty inches and in good shape. They actually posed fairly nicely. Actually, I got mine to pose well, but Jim had some problems with his. This is an ongoing joke as Jim believes he is the snake wrangling master and I would say I'm at least as good. (Jim's note, of course, I'm not serious when I say that) He will usually argue this point. It is all good fun in the field; especially when the snake you are working with is being a pain. The humor really helps.
Our next find was a juvenile milk, but it was also quite pretty.
Photos by Matt Ricklefs
We only took and "in hand" shot as we wanted to maximize the short amount of time we had. You will notice in the "in hand" shot the bandage on my thumb from the habitat preservation from the day before. Jim escaped unscathed.
Our next find was a darker milk about twenty inches long.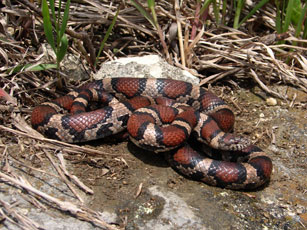 Photo by Matt Ricklefs
The next, another nice one that measured out to about twenty-six inches.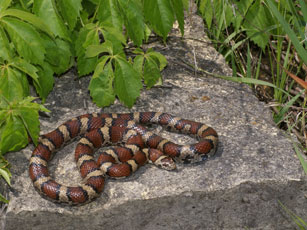 Photo by Jim Scharosch
Our next was a darker one and in shed. It was about twenty-two inches and we just took another "in hand" shot.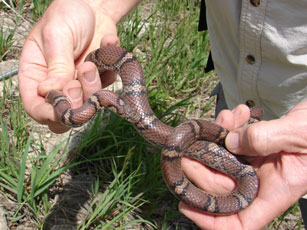 Photo by Matt Ricklefs
Next, a juvenile and another "in hand" shot.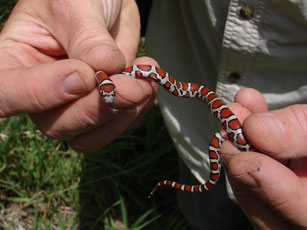 Photo by Matt Ricklefs
Jim actually found this one out on the crawl and with some acrobatics not only managed not to step on it, he also snagged it for a picture.
Next was another milk with some nice top saddles as is a common feature on many of the milks in this area. Also check out the cool red outlined "bridge" between its eyes.
Photos by Jim Scharosch
Our last was a nice little milk, but it was in shed so we just got another "in hand" shot.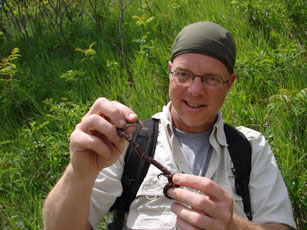 Photo by Matt Ricklefs
That was it for the day. We scored 9 milks and in looking at my pictures this was all done in an hour. Pretty good for not thinking we would have the weather to find anything or at least not anything in these numbers. It was a good way to end the trip. We didn't have a chance to hit all of our spots in Madison County, but we did well and got home at a decent time.
That was it for our Kanspectacular. Our next long trip for the year will be Texas and this comes only two weeks after Kansas. We also are fortunate enough to get out with some good friends: Jeff LeClere and Mike Pingleton. We are looking forward to the trip and some good southern herpin'.
What new adventures await? What dangers will arise? What the heck are we thinking for driving so far again this year? All of these answers will be questioned soon as we begin the Texas Herp Jam 2010! Tune in herping compadraes and see what happens next to our intrepid dynamic herping duo (plus two).
PS - Chad Whitney gets cred for the "dynamic herping duo" nickname.