5-31-10
Trip Details
Start Time: 8:00 a.m.
Weather: Day: Mostly sunny and little wind. High 95 degrees. Night: Little wind and about 75 degrees.
Location: Angelina, Polk, Liberty, Harris, Hardin and Tyler Counties, Texas
Herpers: Scott Wahlberg, Mike Pingleton, Jeff LeClere, Jim Scharosch & Matt Ricklefs
Account by: Matt Ricklefs
Photos by: Jim Scharosch & Matt Ricklefs
Thought of the Day: Mmmmmmmm, buttermilky!!!
We were up early as we had a good drive ahead of us and a long day. I took a few shots of the sky in the morning because it looked cool with the moon.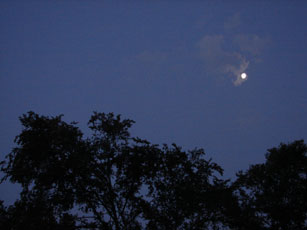 Photo by Matt Ricklefs
The Serpent's Moon if you will. Our normal spot to gather was the Wal-Mart in Nacogdoches. We met Scott there and headed out. It was a nice morning and although we knew it would get hot, the morning was just right.
We hit our first location and under a large section of wood that took all of us to work, we found our first snake of the day! It was a sub-adult Eastern Coachwhip (Masticophis flagellum flagellum).
Photos by Matt Ricklefs
This one was about nineteen inches long. As we took time to get some shots, Scott found a juvenile Western Cottonmouth (Agkistrodon piscivorus leucostoma) about eight inches long that we also got pictures of.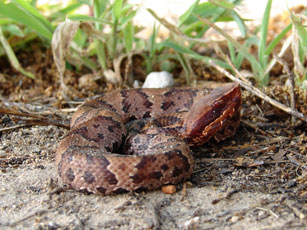 Photo by Matt Ricklefs
In the same location we also found a Rio Grande Chirping Frog (Syrrhophus cystignathoides campi).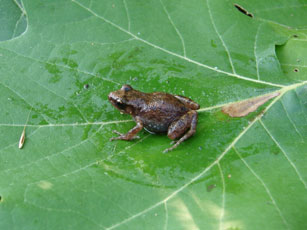 Photo by Matt Ricklefs
It was about and inch and a half long, we got a few quick pics of it before it hopped off; and then as we were burning daylight, we hopped off as well.
It was later in the afternoon when Jim turned up one of the main targets for the trip. We had already gotten our Western Pigmy Rattlesnake in Oklahoma so that was our first big item. Jim found our next target and nonchalantly walked up to the rest of us and said "hey". He had, of course, a Buttermilk Racer (Coluber constrictor anthicus).
Photos by Jim Scharosch
Photos by Matt Ricklefs
It was a beauty with very nice "buttermilking". This was a lifer for Mike, Jeff, Jim and I and we took a good amount of time getting some nice shots before bidding farewell and heading to our next spot.
At our next location we turned up a thirteen inch Western Ribbon Snake (Thamnophis p. proximus).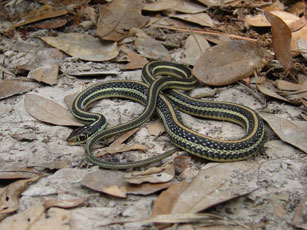 Photo by Matt Ricklefs
I also scared up a Ground Skink (Scincella lateralis) about two inches long just walking toward the truck.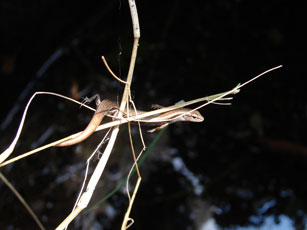 Photo by Matt Ricklefs
This was not a big deal as we had seen quite a few, but this one jetting and flew off the edge of an open drainage manhole and just managed to snag some small branches that were hanging over. I thought it was a goner, but NO! I got a few shots and then left it alone so it didn't get scared and drop into the water. As I was walking away I could just see it starting to crawl back up the branches.
At our next location we managed to find a second Buttermilk Racer.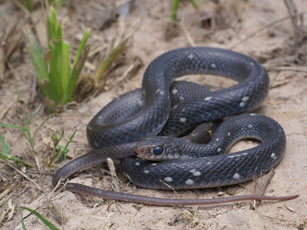 Photo by Jim Scharosch
Photos by Matt Ricklefs
This one was smaller, about fifteen inches, and was in shed. It had much less flecking, but was still very cool. That would be it for the day and we headed back to the house We had made plans to all meet again at Wal-Mart and then head to a local Bar-B-Q place that was pretty good. I got a pic before we left of Mike (looking all studly) and Scott strolling out.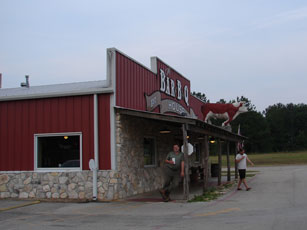 Photo by Matt Ricklefs
It was now time for another trip south and some more road cruising.
That night we turned up a couple of Southern Copperheads (Agkistrodon c. contortrix). The first was about fourteen inches and had a nice light color and nice yellow tail.
Photos by Matt Ricklefs
About 2 hours later we found the second which was larger at about twenty-four inches and had a little darker color.
Photos by Matt Ricklefs
We got some in situ shots as they were lying out and then headed on.
That was all for the night and we headed back home for a few beers in celebration of the days finds.
This would be our last night in Texas before heading back north on our way home.