9-29-10
Trip Details
Location: Jackson County, Iowa
Conditions: 77 degrees and sunny with little wind.
Time: about 11:00 a.m.
Herpers: Jim Scharosch & Matt Ricklefs
Account by: Matt Ricklefs
Photos by: Jim Scharosch & Matt Ricklefs
Thought of the Day: "I'll let you find it on your own."
Fall was upon on and we knew this may be our last outing. We had not done tremendously well with Timbers this year so that was the main target for our quest this day. We even decided to take a different route to our location (which ended up being under major road construction) and herping the area a little differently. So we were really changing things up just to see what we came up with.
This is the area that we had done some tree and bramble clearing on a small rock cut on a service road so we were interested to see what we found. The area looked nice and we did find our first Milk Snake (Lampropeltis triangulum) here.
Photos by Matt Ricklefs
It was about fifteen inches. We will get a much better feel for this in the spring during dispersal rather than in the fall congregation. As I was taking pictures of the milk, Jim had scored a Brown Snake (Storeria dekayi) about eight inches that he took time to get some good pictures of.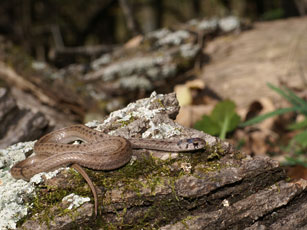 Photo by Jim Scharosch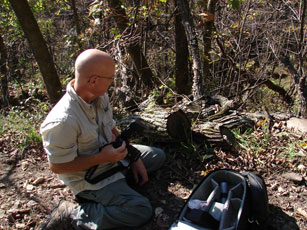 Photo by Matt Ricklefs
In another area we turned up yearling Milk Snake about nine inches long. We didn't spend much time photographing it.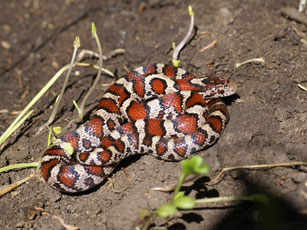 Photo by Jim Scharosch
I got a picture of Jim during "the release".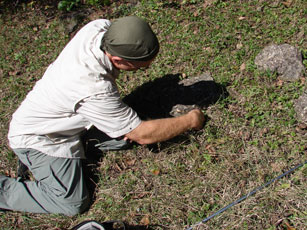 Photo by Matt Ricklefs
Soon another milk snake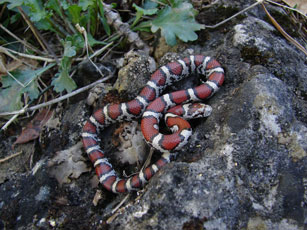 Photo by Matt Ricklefs
Shortly after I turned up a rather nice looking Garter Snake (Thamnophis sirtalis) that was also in very good shape.
Photo by Matt Ricklefs
I got some nice pics and decided it was a good candidate for another one of my famous outtake shots. I do have fun herping.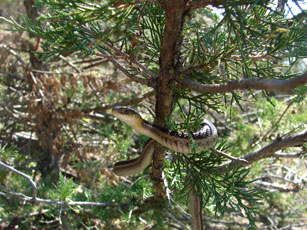 Photo by Matt Ricklefs
At this point we had put in a couple of hours and not yet found a Timber. The day was good, but the nights had been very cool, in the mid 30's to 40s. We wondering how close to the dens they were sticking. We had also discussed that they can come in and out of their den/stop over areas to thermo regulate so we had decided once we hit an area we would give it some time and go back. This had not paid off yet.
Out next find was anther Brown Snake, which briefly went defensive so I got a quick shot.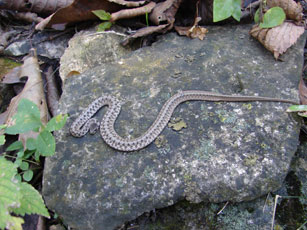 Photo by Matt Ricklefs
We were getting rather discouraged. We had hit the area very well and had even looked in places we had not done before.
In a very picturesque area we had done a few times in the past but never found anything I had gone high on a rocky area and was circling around. Jim had (as I found out a little later) done the same route and was circling down. Finally he called out "Timber!" We had adopted a new method when we spotted something out. Whoever found it would allow the other person to come up and see it without the original finder pointing out exactly where it was. Obviously you had an idea of where it was but you still get the "materializing" effect as you first spot it. Jim had said as I was coming around, "I'll let you find it on your own".
There are areas that look "snakey" to people and areas that don't. Some have snakes and some don't. Some areas may not even look great but end up having snakes. So I guess the moral is if you are out just keep looking and try not to "outthink" the situation. This area however was great looking and, as we know now, has snakes. More than that, it was certainly hibernacula.
As I came around there was a three foot (or so) Timber Rattlesnake (Crotalus horridus) about half out of a rock crevice.
Photos by Jim Scharosch
Photos by Matt Ricklefs
It was awesome. As we watched and were looking at this one Jim spotted another one sitting in the crevice looking out.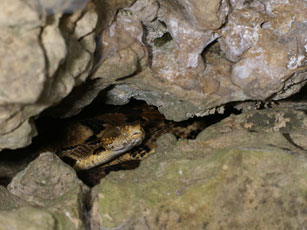 Photo by Jim Scharosch
Photos by Matt Ricklefs
This one ended up moving around and we were able to get some in crevice shots of the other one. The other one appeared to be about the same size as the first one. The one that was out stayed put, even with the other one crawling on it. In fact we cautiously got closer to get better pictures and ended up getting to within about 5 feet of this one. We took time to just watch both snakes. You will notice on one of the flash shots it appears that you can see all of the Timber that is out but what you are actually seeing is the first Timber as it was and the second one's tail as it is crawling by the first. We got all "in situ" shots and finally decided we were good and moved on. As we moved out we noticed that the one that was out decided to take the chance to very casually move back into the crevice. It was pretty cool.
We did find one more Milk as we headed out. This was a pretty one that was a little darker, especially for a younger one. This one was about nine inches.
Photos by Matt Ricklefs
That's it and very likely will be the last trip of the year. We wish everyone a great winter and hereÕs to looking forward to a great spring and some more happy herpin'!