4-29-11
Trip Details
Location: Western Missouri
Weather: Sunny with a high of 78 degrees. Low wind.
Time: 4:00 p.m.
Herpers: Courtney Gaverth, Jim Scharosch & Matt Ricklefs
Account by: Matt Ricklefs
Photos by: Jim Scharosch & Matt Ricklefs
Thought of the Day: Forty-five!
This video is a synopsis of the entire three day trip to Missouri.
Not only was this our first big trip of the year, but it was the first time we had been out this season; and it ended up being in Missouri so we still had our first Iowa outing yet to come.
We had met Courtney last year and had some good herping in Missouri so we really wanted to go back to Missouri this year and also hook up with Courtney. There are times when someone will all but guarantee finding herps if you go out with them. Rarely however will someone nearly promise finding a target species in large numbers. Well, unless someone said we will find one hundred ringneck snakes in Kansas. I could see that. When we met Courtney last year he mentioned a Timber Rattlesnake den he had and they often found them in large numbers. Not that there is disbelief, but you always tend to downplay these so there is not a potential disappointment. It was going to be an interesting trip…
On the way down we checked a spot we had discovered and turned up a Prairie Kingsnake last year. The spot was pretty much the same; however some of the junk cover was gone. There was enough there to make it a good spot still. We found some Ringneck Snakes and that was all.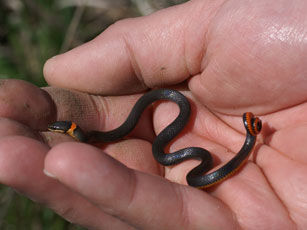 Photo by Jim Scharosch
We did a little more looking around and the junk that was there was settling in nicely so we are hoping this will continue to be a spot we can check.
We arrived at our campsite that Jim had reserved a little early and had some time before we met up with Courtney. When we actually got to the plot we had we discovered that it was mostly a large parking lot with a small area for a tent. Perhaps even both of ours, AND it was basically the most downward end of a road washout and we would, most definitely, have had a stream running through the middle of our tents. Thankfully we did have enough time before meeting up as we were able to transfer to a new site. Lucky site #13 as it was.
We arrived at the location and walked in with Courtney. He is very protective (as he should be) of this location and manages it very well. We did not flip any rocks or cover in the area and did not disturb any snakes. We were also careful where we were walking so that we didn't accidentally miss one or step on a rock that one may be using for cover. It was soon evident why he is so careful.
On stopping at the first group of rocks we saw our first Timber Rattlesnakes (Crotalus horridus), and a Racer (Coluber constrictor) out sunning. These would be the first of many. Rather than go spot to spot, let me just simplify this and say that we stopped at many places and all had Timbers out sunning. It was incredible. They were almost literally, everywhere. The next pictures are a series of what we found. They ranged from yearlings to adults at a maximum of a little over 4 feet. Most were adults in the 3 foot range.
These are my pictures from these spots.
These are Jim's pictures. Many are the same animals as in my pics, obviously.
Even as we finished and were walking the trail out we ran into a little yearling Timber just moseying along.
Photos by Matt Ricklefs
We did go to one spot where there were boards and flipped two Black Rat Snakes (Elaphe o. obsoleta). Both were about 5 feet long.
Photos by Matt Ricklefs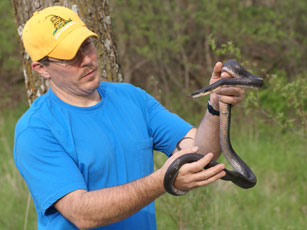 Photo by Jim Scharosch
We also got some pictures of some amphibian eggs in a roadside ditch.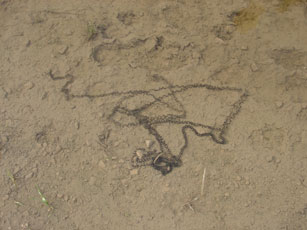 Photo by Matt Ricklefs
On the way out I also found a Western Worm Snake (Carphophis vermis) that did not want to sit for pictures but seemed content coiling around my fingers.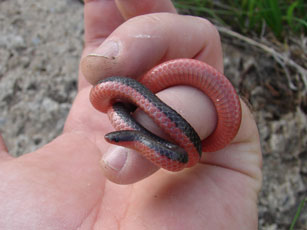 Photo by Matt Ricklefs
That was it for the day. As the caption at the beginning noted, we found forty-five Timbers this day. That's an amazing number in ANY location and Courtney came through big time. This was one of the pleasant times where someone really did not exaggerate about a location. Thanks to Courtney for this truly amazing encounter.
Happy Herpin' and stay tuned for more from the "Show Me State".