5-22-11
Trip Details
Location: Linn County, Iowa
Weather: Mostly cloudy, temps in the middle 60's.
Time: 10:00 a.m.
Herpers: Jim Scharosch & Jill Davis
Account by: Matt Ricklefs
Photos by: Jim Scharosch
My sister was in town for my son's graduation. The weather was nice so we went out to see if we could find any herps out and about. We made a quick stop at a local rockpile with no luck. We were going to go to a larger spot, but it looked like it could start pouring rain at any second so we opted out of that.
As we were driving, I thought I spotted something on the road and locked up the brakes. Jill isn't quite used to this so she freaked out a bit. We turned around to find that I was right, there was a baby Snapping Turtle (Chelydra serpentina) laying in the center of the highway waiting to get run over.
We picked it up and took it to a nearby backwater to release it away from the road. While we were there, I flipped a couple of rocks along the river and turned up an adult Northern Watersnake (Nerodia sipedon).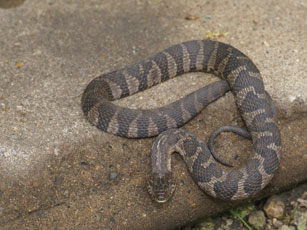 It was about two feet long and typically cranky.
We make a couple more stops but didn't turn anything else up. It was still a nice way to kill some time outside.