8-28-11
Trip Details
Location: Jackson County
Weather: Partly sunny with clouds intermittent through the day. Light rain later in the afternoon. High of 82 degrees. Low Wind.
Time: 11:30 a.m.
Herpers: Matt Ricklefs
Account by: Matt Ricklefs
Photos by: Matt Ricklefs
Thought of the Day: Early Fall
My September, our prime Fall herping time, was going to be pretty much all full up on the weekends. Not that I wouldn't try and get out during the week, but that makes long trips a little more difficult. So I decided that the weather was favorable for me to get out on this weekend even though it was still late summer.
I headed up to my aunt and uncle's as I was interested to see how things looked as they had massive flooding in the area, 14 inches of rain in only about an hour or two, just a few weeks before. The creek that ran through part of the property was the main thing hit and basically turned a small rock bed into a large river bed with now a trickle of water as the creek is now back to normal.
I checked our road cut that we find milk snakes at frequently and it was OK and perhaps even a little better as it was a little more settled. Unfortunately I did not find anything here on this day. This is the first stop in a normal pattern we usually follow when at this location.
It was about 11:00 when I got going on the first of our two hillsides and it was warm, but the sun was still not very exposed on many of the outcrops yet. I worked the area anyway and thought I could come back later and walk the outcrops again to see if any Timber might have come out. My first find was an American Toad (Bufo americanus)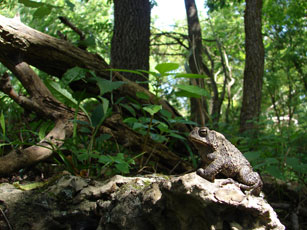 It was a small adult at about 4 inches in length. It was nothing all that "special" but I just love Bufo and they usually pose well so I took a little time since I was waiting for the sun to come up more to get a few nice shots. After letting the little guy go on its way, I moved on.
One of the things I love about this area is that Jim and I are the only ones to herp this area. As such we have become kinda herpetological custodians of the land, which is very nice. As I was walking around an open area there was a rock that could become a little more "herp friendly" so I decided to do a little habitat improvement as rocks are always better for critters horizontal than vertical. Long story short I did manage to get the rock horizontal but not after it broke, sending me literally somersaulting backward. I stood up and noticed a few drops of blood on the ground and as I bent over noticed a rather steady stream of blood running off my head. As I was alone this day I had no one to check to see where it was bleeding from. I took off my glasses and after a little checking on my head managed to get the blood stopped. I also had a pretty good scrape on my shoulder. It was not a bad wound, it was just on my scalp and they always bleed a lot. I keep some bandages, gauze and Kleenex in my camera bag for little scraps and such but it did not do too much to clean up the amount of blood on the side of my head and all over both hands. Being the true herper (and knowing I had a water source to clean up with between hillsides) I wiped my hands on the ground and continued looking around. Unfortunately I did not find anything else besides the toad here either.
At this point my goal was to get to the water hose by my uncle's garage before anyone saw me as I'm sure by appearance I looked hideous and may have caused some alarm, which I did not want to do. I was able to do so and cleaned up pretty well. I checked in my car rearview mirror to make sure. Everything checked out.
I headed up to the second hillside. The sun was a little better on this side as it was a little later and it is a little more open in areas. My first find here was a Brown Snake (Storeria dekayi) about 6 inches in length.
It was the first of six that I found on this trip, but the only one I took pictures of. It seems late summer is a good time to find them here, but not usually at other times. I got a few shots and a few of my, now famous, "outtake" shots which shall forevermore be termed "Bazinga Shots" (in honor of the Big Bang Theory and Sheldon's catch phrase for a joke). If you haven't seen the show, you should check it out. But I digress.
All of the "normal" spots had not paid off so far. There is a spot that I always thought looked "Timbery". It is not far from some of the big den areas and has a good mix of decent sized rocks, bramble and even a few big fallen trees. We had not found any here so far…that is until today. Under a rather thick rock I found my first Timber Rattlesnake (Crotalus horridus) for the day.
It was about 28 inches long and just about ready to shed. This was a good example of why, by color and pattern, there is not a separate species for Canebrake Rattlesnake as this pretty much looked like one. It was a little darker and differently patterned and colored than what we usually find here so it was pretty cool. I got an in situ shot and as I needed to move the rock back how it was managed to get a few other decent shots of it as well. It was actually being well behaved. After it headed back under its rock I moved on.
As I was walking around I came across a Pickerel Frog (Rana palustris) jumping in the grass.
It was about 5 inches long and I managed to get a few shots of it before it jumped on its way.
I was nearing the end and literally was on the last outcrop and my last chance for another Timber and I scored!
This one was out sunning, but was rather warm at this point. It was very active and unhappy, but fortunately went defensive as squirmy rattlesnakes are not fun to work with. This one was typical for the area and larger than the first at about 38 inches. I got a few nice shots as this is a very open area not far from the house before letting it go into the outcrop it was by.
I did decide to walk the other hillside, just around the main outcrops, one more time as the sun was up a little higher but found nothing. It was just starting to get overcast and looked like rain might come soon based on distant clouds. I did find a neat and good sized Wolf Spider (Lycosidae sp.) about 2 inches and cool looking so I got a few shots.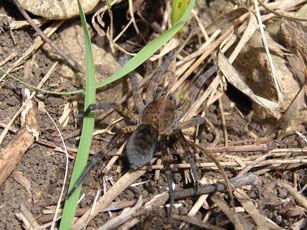 I had seen a few this day, but this was the first to stop long enough to get a picture of.
It was rather early for fall and was quite warm and dry, but it was a tad unusual not to find any Milk Snakes. I'll get back at least one more time before the season ends. After a stop in the house to have some of my Aunt Mary's fresh salsa (delicious), a stop to get some homemade Sauerkraut and fresh cucumbers from my Uncle Carl, a quick catch up with my cousin Kathy and her daughters (they grow up so quickly, it makes me feel old!) and some pleasant conversation with all I headed out. It rained on the way home so I timed my trip about as good as I could. On the way home I listed to a Pearl Jam/Queens of the Stone Age/The Strokes mix on my iPod as I will be seeing them next weekend at Alpine Valley. Sweeeeeeet!
Rock on and happy herpin'!