10-03-11
Trip Details
Location: Jackson County
Weather: Mostly sunny with some clouds later in the afternoon. High of 74 degrees. Low Wind.
Time: 11:00 a.m.
Herpers: Jim Scharosch & Matt Ricklefs
Account by: Matt Ricklefs
Photos by: Jim Scharosch & Matt Ricklefs
Thought of the Day: A trip in the fall…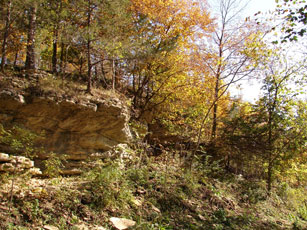 I am writing this a bit after the trip so, spoiler alert, this was to be our last outing for the year. This weekend looked pretty good for getting out, but the signs of things heading in for the winter were definitely evident. We wanted to get out and hoped perhaps we might have another week, but in Iowa the weather can be quite variable especially during the season changes so I'm glad we got out when we could. It's always a little tough to decide where to go late in the fall as you know you are coming up on your last trips. So, you want to choose wisely to maximize your efforts in finding things. We choose to go to my aunt and uncles as it is fairly easy to get to all the spots here and more importantly we have a really good feel for the movement of the animals and where a few of the den sites are. So here we were, basking along with the snakes in the final throws of fall.
Our first stop was a rocky draw along a small access road. We've done pretty well here, but it has gone through a few changes with flooding and maintenance to the road itself. We have made a point to do some cleaning up of overgrowth that needed to be cleared and replacing some rocks that were disrupted in the maintenance. As it turns out this day we didn't light it up, but we did find an 18 inch Milk Snake (Lampropeltis triangulum).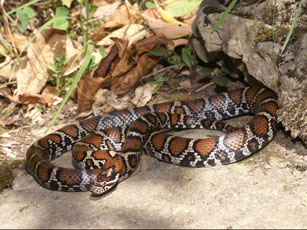 Photo by Jim Scharosch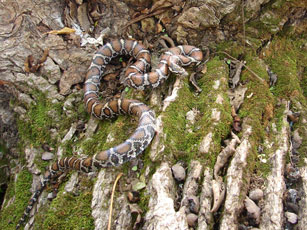 Photo by Matt Ricklefs
We weren't sure what else we may find and this was toward the end of the rocks that we found this one, so we took a little time getting some shots before releasing it.
Next we walked our second area and we found a Garter Snake (Thamnophis sirtalis) about 10 inches long.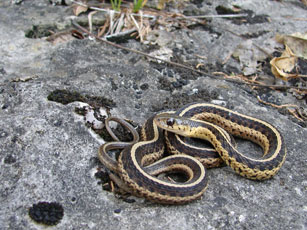 Photo by Matt Ricklefs
I got a quick pic and we moved on. That was all we found in this area and we moved on to our third location.
We turned up a "this year's" juvenile Milk Snake just about 6 inches long.
Photos by Matt Ricklefs
Not long after that we found another Milk Snake about 15 inches long.
Photos by Jim Scharosch
The conditions were good, but it was apparent that the "hibernation clocks" were going off for the critters. We did find a couple of Brown Snakes (Storeria dekayi).
Photos by Matt Ricklefs
Both were in the 8 inch range. We found a few more, but just took pictures of these two.
We also found another garter snake, this time out on the crawl. This photo was taken in situ.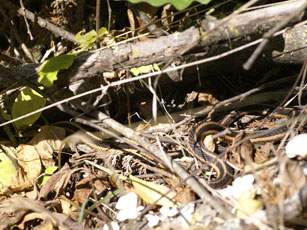 Photo by Jim Scharosch
That was all we found at the third and final site. We have adopted a method that has paid off at times. By the time we get though the whole area, it has worked to go back. Especially because we can hit the den again when there is a little more sun and see if anyone has poked out. This whole area is great as, for Timbers, you are just able to walk them up around the outcrops and often don't even disturb them. Unfortunately today this was not to be. We did however scare up an Eastern Chipmunk (Tamias striatus) that I got a couple of fleeting shots of.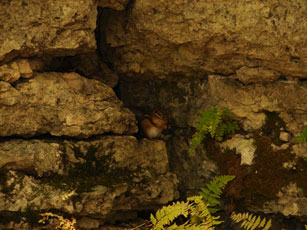 And so that was it.
It's been a great season and we had a lot of fun. We had good trips with a lot of good people so a sincere thanks to all our fellow herpers we got to spend time with this year. As always we look forward to next year and are anxious to see what adventures we will get into in 2012. Apparently we will be seeing some major climate changes, axis shifts or perhaps the end of the world in December of 2012 so I suppose we better make next year worth while. ;)
Have a wonderful white world of winter, happy holidays to you and your families and as always…Happy Herping!