5-12-12
Trip Details
Location: Jackson County, IA
Weather: Mostly sunny and slightly hazy. High of 74 degrees. Low to moderate wind.
Time: 1:30 p.m.
Herpers: Matt Ricklefs
Account by: Matt Ricklefs
Photos by: Matt Ricklefs
Thought of the Day: An ALMOST perfect day.

Jim was out of town on a herping trip and I decided to go look for Timbers at one of our old standby locations. It was a nice day; almost perfect but we had had a slight cold spell a few days before. However it was late enough in the year that things should still be out and about. I decided to go up a little later to allow things to warm up and get some sun. The high was not supposed to crack 70 degrees, but it ended up a little warmer than predicted. At the time I got up to our spot it was about 69 degrees.
We have a few ways of working this area, but I did it the old fashioned way and started at the beginning and worked toward another area I planned to work. That ended up being a bit of an adventure, as you will hear about in a bit.
Our main focus here is Timbers, but Milks are always good to find and in more recent years have been few and far between. So I was pretty excited when my first find was a nice sized, freshly shed Milk Snake (Lampropeltis triangulum) about 28 inches long.
It was under a rock and right by a hole, but I was able to get it before it went down. Now, in a previous post allowing the Milk to go down the whole ended up being good luck, but since we don't see big Milks here often, I really had to get some pics. After a fairly long time, as it was warm enough to make this one want to move around a lot, I did get some nice pics and got a shot of it going back down its hole. I did find a shed nearby that was a Milk shed and could have been from this snake.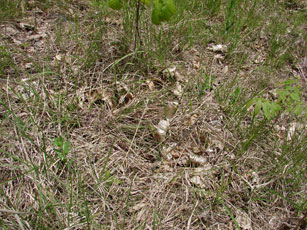 My next find was another Milk, this one in shed and a little smaller at about 10 inches.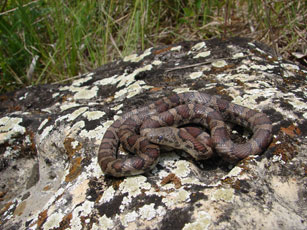 This one actually posed pretty well. Soon after I found an even smaller one at about 5 inches.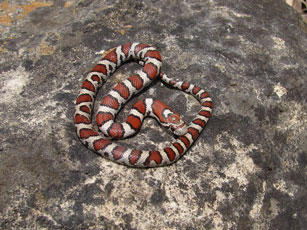 It was very bright and also posed fairly nicely…surprisingly.
It's odd being here and wanting to document a Ringneck Snake (Diadophis p. arnyi) but that is what I did next as it had been a little while since I had seen one up here on the bluffs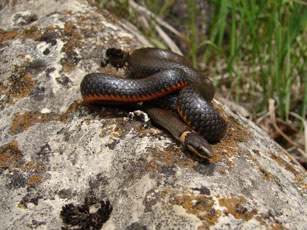 It's odd, because if you go to Kansas you will literally see hundreds. This was an adult at about 10 inches. I did find one a little later as well but did not take pics of that one.
I still had not found a Timber. I worked the area hard. Being along you do a kinda zig-zag/up and down pattern to get all the good areas. I worked the whole areas here but was not to find anything else. I had one more area and then would walk up and out on top of the bluff back to the road…or so I thought.
I hiked over to the other area, which is a haul and worked the area. In fact I worked it so hard I got to the end which was past where I intended to cut up and across a field to the road. But, I hiked up and toward where the road was. There was more field. So I went cross country…for a while. Then I dropped my shirt and had to double back. That ended up good as I decided to go back toward the tree line. I hiked it up and around and finally saw some familiar sights and was back where I started at the beginning which was what I intended…but it is still a nice walk back down to the car from there. I have been going here for over 25 years…believe it or not.
I never did find a Timber or anything else. The vegetation had grown in a lot and was closer to where it would be in the middle of June rather than the middle of May. As many of you also know, sometimes the day can be perfect weather and you find all the right rocks that look perfect for snakes to be hiding out. Even ones that have paid off in the past and you find diddley-squat. So was my day this day. Perhaps the Milk put a jinx on me. At least I did find a few Milks.
It was good exercise and it was a very nice day. So other than not finding at least ONE Timber it was almost a perfect day.
Happy Hiking Herping!