5-14-13
Trip Details
Location: Benton and Linn Counties, Iowa
Weather: Clear skies and hot. High over 90 degrees.
Time: 4:00 to 6:00 p.m.
Herpers: Austin Scharosch, Jim Scharosch
Account by: Jim Scharosch
Photos by: Austin Scharosch
It was a hot day, but after the cold spring we had endured to this point I decided I wanted to get out anyway. I have a couple of spots that are rocky and somewhat shaded from the afternoon sun. I invited my son Austin to come along and he questioned the heat, but I assured him we would see at least a few things and he grudgingly decided to come along.
The first area we stopped at was an east facing slope with exposed rock. I have seen a number of milk snakes here over the last few years and this day seemed like a good day to duplicate that. It didn't take long to find our first snake, not a milk, but a Racer (Coluber constrictor).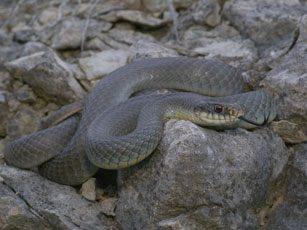 We moved on, and a few rocks later flipped this Milk Snake (Lampropeltis triangulum).
It was a nice sized adult that was going down into a hole underneath the rock when flipped.
A few rocks later, another milk snake. This one was a little smaller and a lot darker with deep brownish red saddles.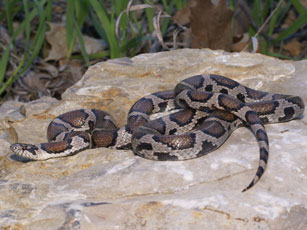 As we were walking back, Austin spotted a milk crawling out from under a small rock flake that we had checked not fifteen minutes earlier.
He grabbed it up, and I turned the small flake to have a look. There was an obvious hole under the rock that the snake must have come up out of. I looked into the small hole and could see the nose and eyeballs of another milk snake looking up at me. It retreated back into the hole. It was cool to see that.
That was it from this location. After seeing that much stuff at this small spot, we decided to try one other small spot in Linn County. We rolled in and it wasn't long before we had flipped the thing we see most often at this spot, a juvenile Fox Snake (Elaphe vulpina).
This area is a hot spot for juvenile fox snakes, it's not uncommon to see four or five. This one was cool looking, with some double spotting behind the head.
We found another small fox snake that was in shed.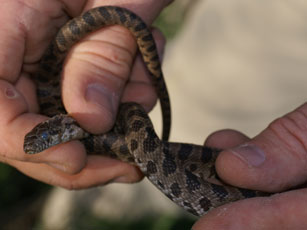 Soon Austin flipped a milk snake that was so dingy and deep in shed that he misidentified it as a fox snake on first glance. It was pretty gnarly.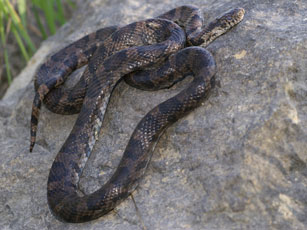 On the way out, we stopped at another rock pile that I have checked numerous times over years without seeing anything. I always figured that sooner or later it would pay off, and this was the day. Under one of the first couple of rocks was this milk snake.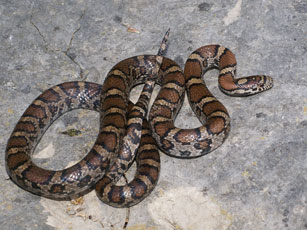 Nothing spectacular, but nice to finally see something at a spot I knew should have snakes.
That was it for the day. Not bad for a quick two hour after work trip around some local spots on an 90+ degree afternoon.