2-14
Trip Details
Location: Aruba
Weather: Mid 80's during the day and mid 70's at night. A pretty much constant moderate wind.
Herpers: Matt Ricklefs & Janie Ricklefs
Account by: Matt Ricklefs
Photos by: Matt Ricklefs
Thought of the Day: Aruba baby!
So for our fifteen year anniversary my wife and I decided to go to Aruba. We had wanted to go for a while and the time had finally come. What follows is a really quick account of the last week in February. Not a lot of herps, but I hope you find it interesting anyway. :)
Waiting for transportation for our first excursion I spotted a Cope's Ameiva (Ameiva bifrontata) at the bus stop.
Pretty cool for not looking yet. It was not about to sit still. Probably because it was right near the road and also quite warm!
Downtown after going on an Atlantis submarine dive I got a quick pic of a Velociraptor on a rooftop.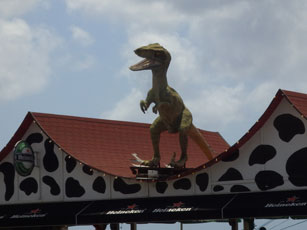 We hit a zoo (nice but not great) and it was funny that there were Aruban Whiptails (Cnemidophorus arubensis) in the cages. They would be the most common herp seen on the island. The brownish ones are female and the more predominately turquoise ones are male.
The second most common herp was the Green Iguana (Iguana iguana). Adults and juveniles were both common.
Back on the beach and a few cocktails later I saw a Striped Anole (Anolis lineatus) hanging out not too far from out chairs.
Not long after I gashed my foot on a piece of coral, but managed through with the help of sand caked in the wound - and a few more cocktails. Here are a few shots of landscapes and habitat. It is quite dry and we were there during the rainy time. It truly is a desert island.
We stopped at a Donkey preserve and in the store when I stopped for a locally brewed beer. I spotted a Common House Gecko (Hemidactylus frenatus). This one was tiny. In the photo you can see the edge of a door hinge for size reference.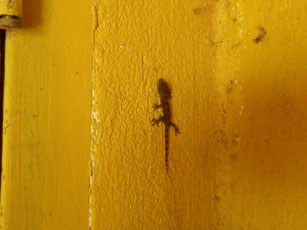 The last night we saw another House Gecko while we were out walking.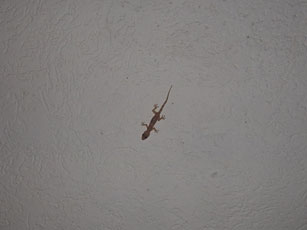 And last but not least I got a picture of a Brachiosaurus at O'Hare airport.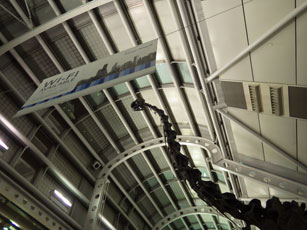 We knew we were getting in late but we had a big winter storm move in and ended up with a six hour layover. We got back home at 4:00 a.m. Ugh!
Still a nice trip with some herpin' mixed in!!!