4-26-14
Trip Details
Weather: About 60 degrees. Moderate wind with increasing clouds.
Time: 11:00 a.m.
Herpers: Jim Scharosch & Matt Ricklefs
Account by: Matt Ricklefs
Photos by: Jim Scharosch & Matt Ricklefs
Thought of the Day: Massivesauga
As a disclaimer, this post contains an account of an Eastern Massasauga (Sistrurus c. catenatus). Throughout its range in the midwest each population is critical and as such we are respecting this by providing no location information or specifics for the trip. Be assured the necessary people were contacted prior to us being in this known location and all pictures of these snakes were taken in situ, meaning we took pictures just as we found them. Thank you for understanding and enjoy this entry!
It was a nice early spring day and it was quite possible we could get out to see some Massasaugas. The conditions were pretty close so off we went.
Our first find however, was a Redbelly Snake (Storeria occipitomaculata) about 4 inches long. It was under cover and just starting to warm up for the day.
Photos by Matt Ricklefs
After a little while, a bit of a warm up and a few clouds that moved in we had our first Massasauga Rattlesnake (Sistrurus catenatus). As it turned out this would be the first of three that we were able to find. All of them were just about 24 inches long give or take. As you can tell all of the photos are in situ.
Photos by Jim Scharosch
Photos by Matt Ricklefs
It took a bit to find them and Jim would have walked by one had it not started rattling just a little. On the way back to the car I found parts of a deer and joked that it must have been a giant Massasauga or a "Massivesauga" as it were that took the beast down.
On the way out, we got a bonus, a Smooth Green Snake (Liochlorophis vernalis). It was about 12 inches long. It was under cover but it had either just moved in or was still on the crawl when we flipped as it was not settled in at all and even had some of its belly up. It actually cooperated pretty well for a few pictures.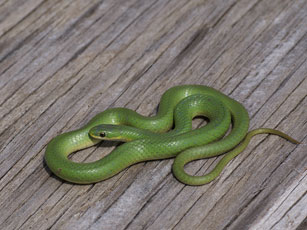 Photo by Jim Scharosch
Photos by Matt Ricklefs
A very nice spring day! The season is just starting but gets over soooo quickly.
Happy Herpin'!