5-4-14
Trip Details
Location: Benton County, Iowa
Weather: 58 degrees, windy and mostly cloudy.
Time: 5:00 PM
Herpers: Jim Scharosch, Laura Scharosch
Account by: Jim Scharosch
Photos by: Jim Scharosch
20140504
Mostly cloudy, breezy. 58 degrees.
Laura and did a bunch of yard work then decided to stop at my spot in Benton County. This was the spot that had produced the county record ribbon snake a few weeks ago. After all of the milk snakes that had been found the day before in Madison County, I was sure they would be up by now. I also know that milk snakes will usually stay under the upper level surface rocks even when the temps dip down a bit and the rocks start to cool off. This is especially true when there isn't a passage to an underground den site directly under said rock. Those snakes are "trapped" under that rock until the weather warms up.
It didn't take long to prove that to be true as we turned up a Milk Snake (Lampropeltis triangulum) under one of the first rocks we turned.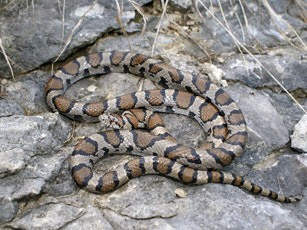 It was a two foot plus adult snake, showing the brownish coloration that is common among eastern Iowa milks.
The second milk was a last year's baby.
The third was a young adult, approximately eighteen inches in length.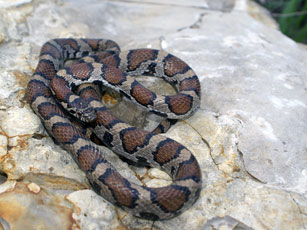 Finally, we turned up two more babies. The first one was darker in background coloration.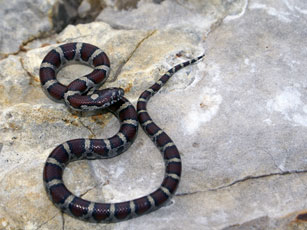 The second was much lighter.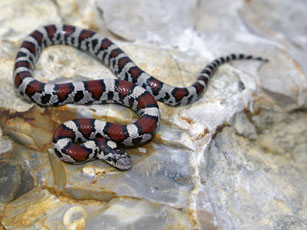 Laura got them to pose together, which is normally not easy. You can see the color variation when they are side by side.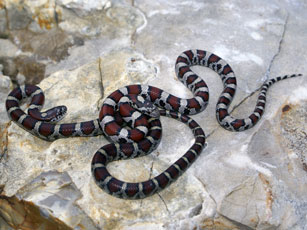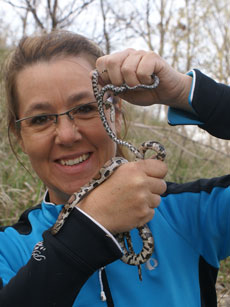 This was a quickie stop that ended up producing nicely. Five milks in about fifteen minutes is Kansas style herping!! If only I had about twenty more spots like this...