5-6-14
Trip Details
Location: Linn County, Iowa
Weather: 65 degrees, windy, mostly cloudy
Time: 5:00 PM
Herpers: Jim Scharosch
Account by: Jim Scharosch
Photos by: Jim Scharosch
I went to another one of my early season spots. This spot is a hibernaculum that holds a lot of young fox snakes and garter snakes. It also turn up the occasional milk snake. I have been visiting this spot for the last four years.
It didn't take long for the first Fox Snake (Elaphe vulpina) to turn up.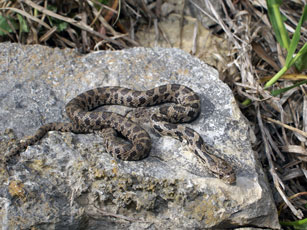 It was a last year's hatch, about twelve inches in length. Nice to see another generation of fox snakes was produced here last season!
Eastern Garter Snakes (Thamnophis sirtalis) were found in decent numbers. Here's the only one I photographed.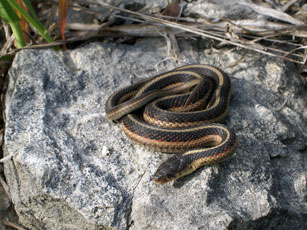 Three years ago we turned a rock and found seven baby fox snakes. The next fox snake I found could be one of those babies reaching young adulthood.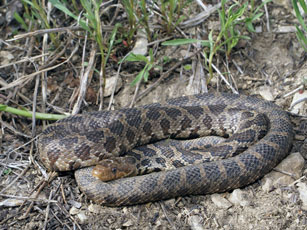 It was about twenty-four inches in length.
A few rocks later, another young adult fox snake.
It gets difficult to keep the pictures interesting, so I shot some in a tree to be different. Probably never see a fox snake in a tree, but whatever.
The next rock held a double, another young adult fox snake…
and a nice Milk Snake (Lampropeltis triangulum).
It was about eighteen inches long and was very typical in coloration for the milks of this area. It did have a nice gray background color.
Next was another last year's hatch fox snake.
Then another young adult fox snake.
Then another baby fox snake.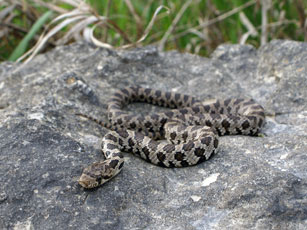 I moved on to a part of this location that had paid off with a milk snake for the first time last season. I turned the first rock and found another milk snake.
At about twenty-six inches in length, this one was larger than the first one from today and had a more brownish background color.
There was an area that had never paid off in this spot even though I check it every time I come here. As much stuff as I had seen today I thought out loud that this might be the year for a change. I was right. A couple rocks in turned up this dark colored milk snake.
It was about two feet long. It had a dirty brown background color and deep reddish brown saddles.
A couple minutes later, another baby fox snake.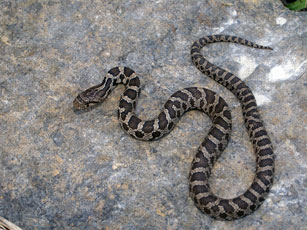 When I was first driving in I noticed a few rocks that I had never spotted before. As I was leaving I stopped to check them out. There were some good rocks and some holes that looked like they could go deep enough to be another hibernation spot. A couple of rocks and I hit a double on baby fox snakes.
That was it for the day. Eleven fox snakes, three milk snakes and numerous garter snakes. It was cool to see that the fox snakes here are thriving. It's nice to think that maybe those young adult fox snakes were the same babies we had seen a couple of years ago. It was one of the most enjoyable solo local herp trips I have ever had.