5-9-14
Trip Details
Location: Southwestern Iowa
Weather: Partly cloudy, high of 67
Time: Early afternoon
Herpers: Jeff LeClere, Jim Scharosch
Account by: Jim Scharosch
Photos by: Jim Scharosch
Jeff and I headed to Kansas City to do some herping in Kansas and Missouri. We were going to stay with Chad and Michal at their apartment and herp all over Kansas and Missouri for four days. On the way down we stopped to visit some sites in southwestern Iowa. The weather was perfect for tin, but we didn't see much. A number of eastern garter snakes were seen but not photographed.
The first thing we found was a Racer (Coluber constrictor).
It was an adult about three feet long. The snake was in terrible condition. It had two huge gashes in it's side, one to the point where you could see exposed ribs. They looked like they were caused by a mower, though it could have been a predator as well. It was easily the worst wounds I have ever seen on a live and functioning snake. The wounds were old enough that the snake had received them last year and had survived overwintering. It is amazing how tough snakes are. It still has a long road to recovery.
One site didn't turn up any snakes, but look at this perfect habitat for Morel mushrooms.
Okay, that was sarcasm, but there was about a pound of morels growing in this mowed grassy field.
At another site we turned up a young Ribbon Snake (Thamnophis proximus).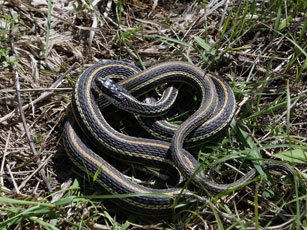 This is a snake I don't see all that often so I grabbed a photo. It was about fourteen inches long.
That was it for the drive down. Looking forward to Kansas!