5-11-14
Trip Details
Location: Eastern Kansas
Weather: High of 85, mostly sunny
Time: Various
Herpers: Daytime - Jeff LeClere, Jim Scharosch; Night - Michal Bernasconi, Chad Whitney, Jeff LeClere, Jim Scharosch
Account by: Jim Scharosch
Photos by: Jim Scharosch
Jeff and I headed out alone today. We went south to a quarry and a string of road cuts that we have been to numerous times in the past. It was a warm day again and we knew we were a bit late for flipping road cuts, but we didn't have a lot of choice and wanted to hit an area we were acquainted with.
We started at the quarry and our first find after flipping a lot of rocks was a Copperhead (Agkistrodon contortrix).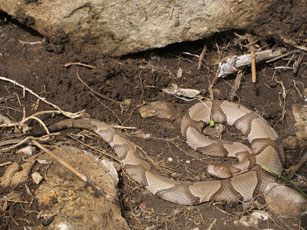 It was a young adult, about eighteen inches in length. It was very brown for a Kansas copperhead this small and had very little white edging on the darker bands.
Soon after, a second copperhead showed up.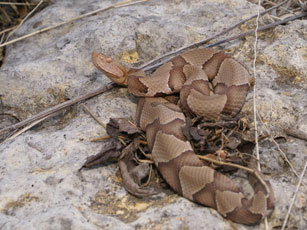 It was about the same size as the first, but showed more of the typical peach coloration from this area, the white edging of the bands was also more pronounced.
Many rocks later a third copperhead was found.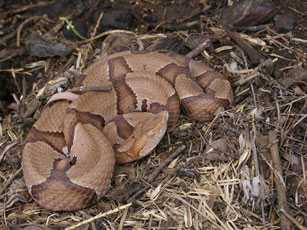 This one was larger, slightly over two feet in length. It also had the more reddish colored bands.
As we were driving out, Jeff said he saw a garter snake in the water along the road. We backed the truck up and discovered that it wasn't a garter snake, but a Slender Glass Lizard (Ophisaurus attenuatus).
It was neat to see one laying out in the open like this. It let us get right up and take photos.
That was it for the quarry, so we moved on the road cuts. As we expected, the herping was slow on the cuts. After about a million rocks, I turned up a Speckled King Snake (Lampropeltis getula).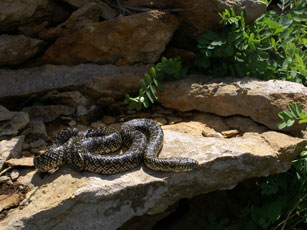 I think I said out loud, "It's about friggin' time". It was a young adult snake, about twenty inches long.
A couple cuts later, Jeff found a Prairie Kingsnake (Lampropeltis calligaster).
It was about two feet long. We hit one other cut that has always been one of the most productive on this stretch. When we struck out there, we decided to cut our losses and quit working the cuts. We did some scouting of some other sites then headed back to Chad's place.
That evening we did some road cruising with Chad and Michal. Chad predicted three copperheads, and that's what we ended up with. I only got photos of two of them.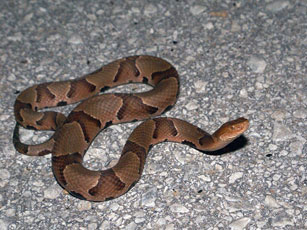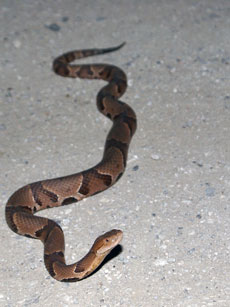 It was fun cruising with Chad and Michal, we talked a lot of herp stuff.