5-14-14
Trip Details
Location: Jackson County, IA
Weather: 60 degrees. Mostly cloudy, low wind.
Time: 4:50 p.m.
Herpers: Don Becker & Matt Ricklefs
Account by: Matt Ricklefs
Photos by: Matt Ricklefs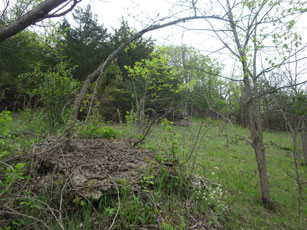 I had to check a few things at the site I was at four days earlier and asked Don if he would like to come along and help, to which he graciously agreed to do. It was late in the day, which normally wouldnít be bad, but it was cool. It was also going to continue to get cooler with lows getting into the mid 30's. We did not expect to find much, but it is the time of year things are moving and the area is plentiful with milk snakes.
Our first catch was indeed a juvenile Milk Snake (Lampropeltis triangulum) about 6 inches long.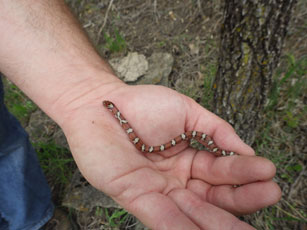 Under a rock that is usually pretty good, we got a double! Two "chocolate milks".
One was approximately 22 inches and the other was approximately 18 inches; a nice find on a poor day. We took a little time getting some pictures. You can see in the background on a few pics a morel that was fairly dry. It was kinda cool having it in the picture though.
A few minutes later we found another juvenile about the same size as the first.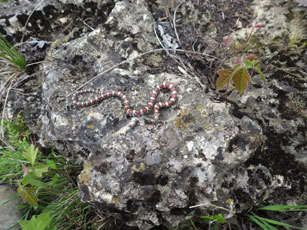 This one cooperated a little more. I took a habitat shot before we left, as I have been forgetting to do that.
It was meant to be a quick trip up, the mission was a success, and we even scored four milks. It was nice getting out with Don as well.
Happy herpin' folks!!!