5-17-14
Trip Details
Location: Linn County, Iowa
Weather: 65 degrees, windy, mostly cloudy
Time: 1:00 PM
Herpers: 62 degrees, calm winds, partly cloudy
Account by: Jim Scharosch
Photos by: Jim Scharosch
Went to a local fox snake spot with Don and his son David. It was a spur of the moment thing, but the weather looked good so we thought we should take advantage of it. The spot we went to is a fox snake overwintering site that almost always produces at least a few fox snakes and milks.
It didn't take long for the first find, as a large rock produced a young adult Fox Snake (Elaphe vulpina) and a last year's baby Racer (Coluber constrictor).
The fox snake was about two feet long., the racer was about twelve inches in length.
I'm not going to go into a lot of detail, but next came another fox snake about the same size as the first.
Then Don and I found two fox snakes at almost exactly the same time. Mine was about the same size as the first two.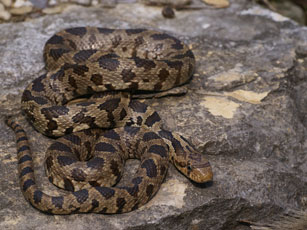 The one Don found was larger, and it was extremely pretty.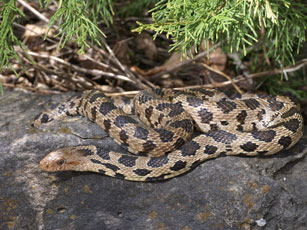 It was very lightly colored and had a really light head pattern and nice rusty orange head. It was nearly as nice as the one I found at this location a few years ago.
That was it. A nice spur of the moment trip that paid off with a gorgeous fox snake.