5-24-14
Trip Details
Location: Jackson County, Iowa
Weather: Sunny, winds 7 mph, 72 degrees.
Time: Afternoon
Herpers: Misi Stien, Jeff LeClere, Jim Scharosch
Account by: Jim Scharosch
Photos by: Jim Scharosch
We had a bit of field work to take care of related to one of our study sites so we headed to that spot first. When we reached the area, we shined a flashlight into some of the crevices in the cliff face and spotted a young adult black rat snake deep in the crevice. It was much to far in to get any photos, in fact it was almost difficult to identify the snake with so little visible.
We moved to a nearby area that contains a timber rattlesnake den, but it wasn't to be there today. After a bit Jeff did turn up a juvenile Milk Snake (Lampropeltis triangulum).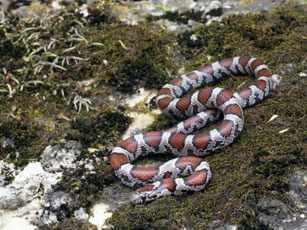 It was a last year's baby. We would see a lot more of these today.
A while later we came to an area with some tin and Jeff found another milk snake.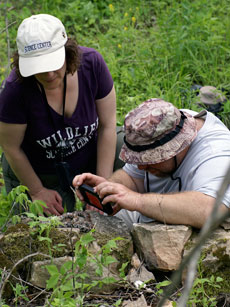 This one was an adult approximately twenty-eight inches long.
A bit later I turned up another milk snake about the same size but in shed.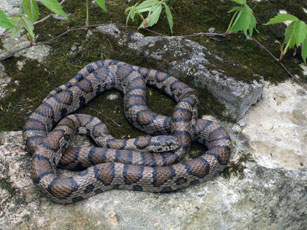 That was it for this area so we headed to the truck and moved on to another location that we visit annually.
We walked up the steep incline and found an adult milk snake laying out along a large rock outcrop.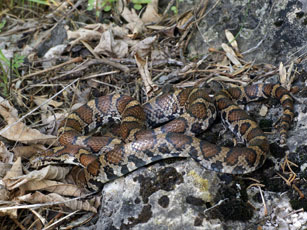 We couldn't get any in situ photos, but posed the snake for these shots. It was just over two feet in length. It's not often you see milk snakes out on the crawl.
Soon we started finding a bunch of last year's baby milk snakes. These first two were found within seconds of each other and posed together.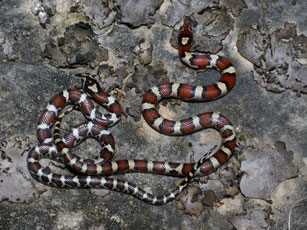 Next was another adult in shed, this one a little smaller at just under two feet.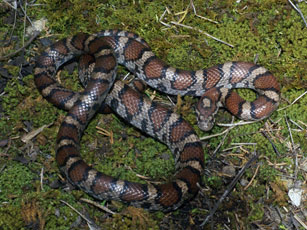 Then another baby milk.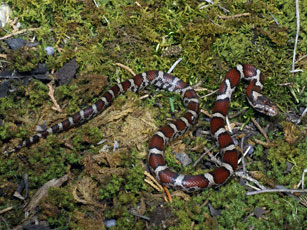 After we finished shooting the pics of the last two milks, Jeff called out that he had found a Timber Rattlesnake (Crotalus horridus).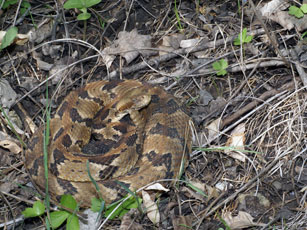 The funny thing was this specimen, which was probably just under three feet long, had been basking in an open area no more than eight feet from where we were sitting and laying on the ground taking the pictures of the milk snakes. It had never moved or rattled while we were doing that nor when we took pics of it. We didn't disturb it and moved on.
Soon we moved on to the other den on this property. We approached the actual den site, and Jeff turned a piece of tree bark and found a juvenile timber rattlesnake.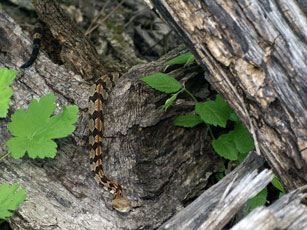 It was a last year's baby, about a foot long. We ended up finding two more under the nearby bark and Misi found her first ever venomous snake fifteen feet away on the crawl. I only got a photo of one of the additional three baby rattlesnakes.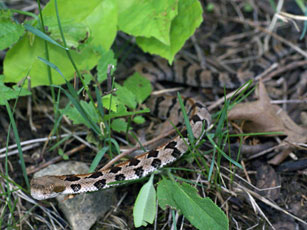 We neared the top of the bluff and I started to tell a story about a time I had seen a timber under a small shelf rock, and there under the same shelf rock was a large adult timber.
This one was probably three feet plus in length. It new we there, and puffed itself up and hissed numerous times. It never rattled or acted otherwise aggressively.
We wandered down to where there was a string of rocks that normally produces milk snakes. We were running low on time so we were cherry picking rocks at this point, and skipping many good rocks. As we approached the area, Jeff spotted another juvenile timber tucked between a rock and a log.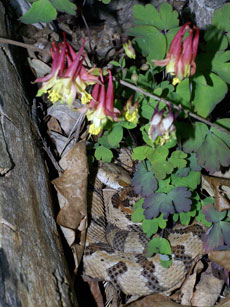 Jeff played the "can you find the snake" game. I spotted it, but Misi was unable to locate it. It was pretty well hidden, though it may not look like it in my photo.
The milk snake rocks produced two more baby milks.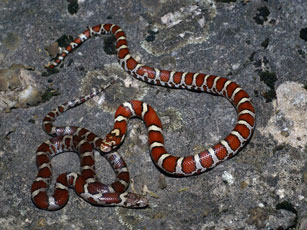 I photographed them together so you could see the vast difference in the color between the two. They both had very narrow black bordering on their saddles, but the larger on had much lighter background color and much brighter red saddles. They will both hopefully grow up to be really pretty milk snakes.
That was it for the day. It was a good time herping with fun people. A great day all around.