5-25-14
Trip Details
Location: Linn and Buchanan Counties, Iowa
Weather: Partly cloudy, winds 10 mph, 75 degrees
Time: Early afternoon
Herpers: Misi Stien, Jeff LeClere, Jim Scharosch
Account by: Jim Scharosch
Photos by: Jim Scharosch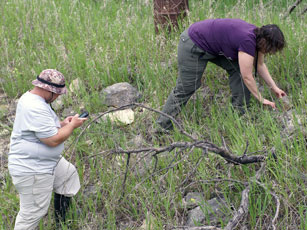 We hit a local fox snake hotspot to get Misi her lifer fox snake. The first rock we flipped was one that I had purposefully placed on this small hillside for the purpose of finding snakes, and it paid off with a small adult Milk Snake (Lampropeltis triangulum).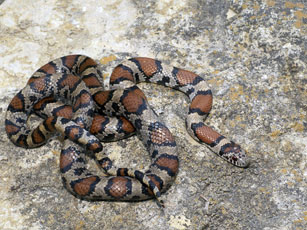 It was about two feet long.
Next I flipped a Fox Snake (Elaphe vulpina).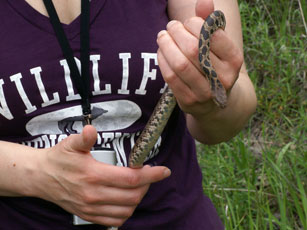 It was about two feet long, but deep in shed so I didn't put any effort into photos. It was still a lifer for Misi though.
Thankfully a couple of minutes later she flipped her own fox snake.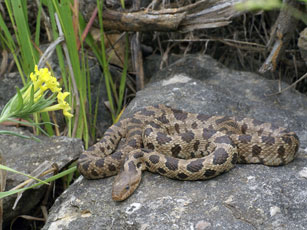 This was the first snake she had ever flipped on her own, which was pretty cool. It was also much nicer that the first on the I had found and about the same size. These were probably some of the same fox snakes I had found here earlier in the season.
We found another small adult milk snake a little farther down the way in an area I had only begun to check last year.
It was nice that this new area was also beginning to consistently pay off.
We hauled a few rocks from the shaded parts of an old quarry into nice positions on the main hillside to improve future herping at this spot. That was it though for the day.