8-16-14
Trip Details
Location: Jackson County, IA
Weather: 75 degrees. Mostly sunny with clouds building. Low wind.
Time: 10:00 a.m.
Herpers: Jim Scharosch & Matt Ricklefs
Account by: Matt Ricklefs
Photos by: Jim Scharosch & Matt Ricklefs
Thought of the Day: Observe and Preserve
The landscape is always so different during the summer once the trees and plants fill in. In the spring things have yet to fully come out and in the fall everything has begun to, well, fall. It is easier to see areas that really need to be cleared to open up spaces for snakes to get more sun and also to allow the other native plants and deciduous tress to gain back ground from the Cedars that gain a choke hold.
Today was a day for Jim and I to just get out, get some fresh air, scope areas to clear once things have cooled enough to get everyone to their winter homes and perhaps just see a snake or two out. It has been very dry so we know chances of seeing a Milk Snake were slim but seeing a Timber out was possible. It wasn't a typically perfect day, but summer is always a little different so we had a little home.
In a nice jumble of rocks and fallen trees that we have seen Timbers before Jim did get a very nice spot on a last year's Timber Rattlesnake (Crotalus horridus).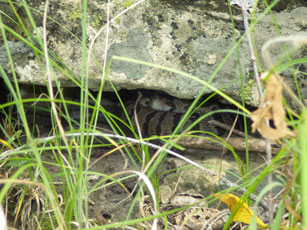 Photo by Matt Ricklefs
It was tucked in with a coil out and we tried to get a shot before it went under but it was too wary. We did get some shots of it after it did go a little further back and was checking us out. As usual once done we left it alone and went on our way.
There is one odd spot I always check as I have seen Timbers there before. Sure enough, we got lucky enough to have one out in full hunting posture.
Photos by Matt Ricklefs
Photos by Jim Scharosch
This was an adult approximately 40 inches long. It was tucked in enough that we had to negotiate some obstacles for pictures, but out enough that made it possible for some fair shots. We walked around and it set down a little further than it had been but seemed unbothered by our presence; perhaps because it felt tucked in enough.
Since we were there to scope the area as much as anything we did take some extra time to walk areas that we donít as often just to see if anyone dispersed that way and we just wanted to walk around a bit. Along the way we crossed a creek with a nice adjacent pond and got a few pics of a couple of cooperative juvenile Bullfrogs (Lithobates catesbeiana) out and about. They were approximately 4 inches long.
Photos by Matt Ricklefs
That was all for the day. It was a quick trip with some decent results and a nice summer walkabout mate! Not sure why I went Australian there, just went with it.
Observe and Preserve, that's not a bad catch phrase and/or motto!
Happy Herpin' all!