4-28-15
Trip Details
Location: Benton County, Iowa
Weather: 70 degrees, sunny, no wind
Time: 5:00
Herpers: Jim Scharosch
Account by: Jim Scharosch
Photos by: Jim Scharosch
I have been sick with bronchitis so I haven't had a lot of energy to get out for the past week, but I was feeling a little better today and the weather was really nice so I decided to force myself to get out for at least a little bit. I went to one of my easy to access spots in Benton County, and without going into a lot of details on trip, suffice to say that I picked up my first Milk Snake (Lampropeltis triangulum) of the year.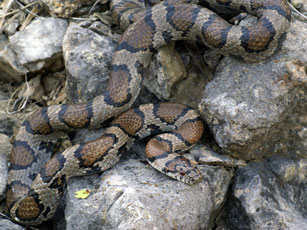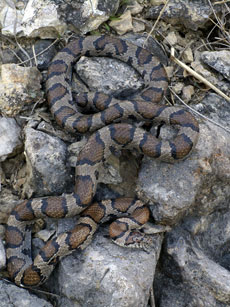 It was an adult, about twenty-six inches in length, with fairly typical coloration for eastern Iowa. It was the only snake I saw at this normally more productive spot.
On the way home I stopped at a small rock pile that I had seen numerous times but never visited. I saw five garter snakes here and there were numerous nice rocks that should pay off on future visits. What suprised me though was that I found three pounds of morel mushrooms. This wasn't even close to what you would call proper morel habitat. It was rocky, weedy and wide open to full sunshine. I don't hunt mushrooms, but if I stumble onto them during a snake trip I will pick them. It was a nice surprise and I enjoyed them for dinner.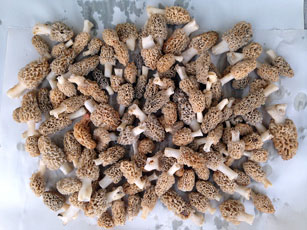 That was about all of the energy I could muster for today. I'm hoping to have some lung capacity back in time for what looks to be a really nice upcoming weekend.