5-10-15
Trip Details
Location: Kankakee County, Illinois
Weather: 74 degrees, partly cloudy, no wind
Time: 2:00
Herpers: Jeff LeClere, Jim Scharosch
Account by: Jim Scharosch
Photos by: Jim Scharosch
I hadn't been to Kankakee for a long time. The last time I was here the day had a weird vibe and I said I didn't think I would come back. That changed because Jeff had always wanted to come here and it worked out as a solid option for day two of our Illinois trip. We had stayed overnight in the Quad Cities so our drive was shorter. The weather was perfect for flipping tin and we had a long list of sites to visit that had been gathered on previous trips.
I will cut to the chase, it sucked. Most of the sites we visited had been hit by scrappers who pick up the metal. That left trash and boards that had mostly disintegrated. Many sites had been fenced off with large no trespassing signs as well. There may still be good sites in the area hiding off where they cannot be seen from the road, but all my sites were terrible.
That said, we did manage to find this young Racer (Coluber constrictor).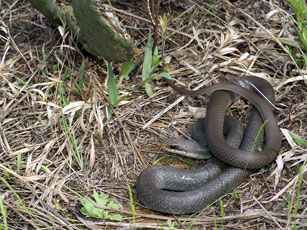 It was about two and a half feet long.
At another site we found two young of year Milk Snakes (Lampropeltis triangulum).
We saw some racerunners here and there. It was my first trip to Kankakee without finding a bullsnake or a glass lizard.
We did find a dead bullsnake on the road on the way out and were able to gather DNA from it, so at least something somewhat productive came from the day.
I won't go back to Kankakee again unless I can go with someone who knows the area.