5-13-15
Trip Details
Location: Iowa, Davis, Jefferson and Henry Counties, Iowa
Weather: 73 degrees, sunny, no wind
Time: 11:00
Herpers: Jim Scharosch
Account by: Jim Scharosch
Photos by: Jim Scharosch
I took the day off work and was excited to get out herping again. I had had a great night last night and with the weather looking good, was hoping for a repeat performance. I had mapped out a 350 mile loop through southern Iowa, with stops in Iowa, Davis, Jefferson and Henry counties. Hopes were high, but as is often the case with herping, it didn't quite pay off.
First stop was in Iowa County, at a location where we often find smooth green snakes. I found a Ringneck Snake (Diadophis punctatus).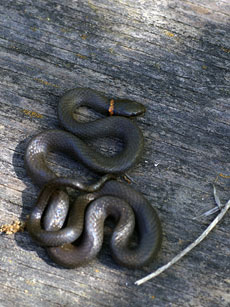 It was under a foot long.
Next I found an eastern gartersnake sharing a small piece of tin with a young adult Fox Snake (Elaphe vulpina).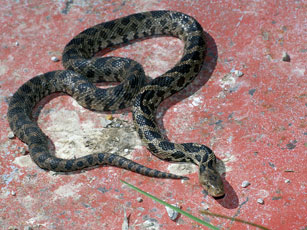 It was in shed and had a lot of water blisters from hibernation. In other words, it was butt ugly. I didn't catch the gartersnake.
That was it for Iowa County, so off to Davis county, where, to keep this short, I found squat.
Next was a Jefferson county tin site. First thing I found was another small adult fox snake in shed. This is an in-situ shot from under the tin.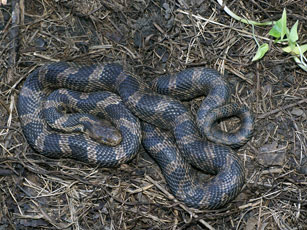 A few tins later and I found a juvenile fox snake, also in shed.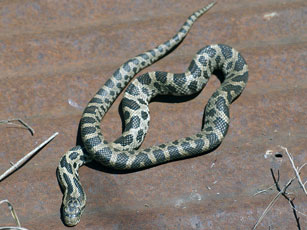 That was it for this site. This site is also known for green snakes, and again, not this time.
Next was the drive to Henry county. This is a known timber rattlesnake den and again, to keep this short, I found squat, not even another butt ugly shedding fox snake.
There you have it, perfect weather and really nice locations, 350 miles and I pretty much struck out. That's the way it goes though, and I'm still looking forward to my next trip out.