7-19-15
Trip Details
Location: Jackson and Dubuque Counties, IA
Weather: 71 degrees to 81 degrees. Mostly sunny, low winds.
Time: 9:30 am - 2:00 pm
Herpers: Laura Scharosch, Jim Scharosch
Account by: Jim Scharosch
Photos by: Jim Scharosch (except where noted)
I will keep this short since it was another trip to our Jackson County location to do a bit of cleanup work around the densite and rookery area. One way up the hill we stopped at a small outcrop where we had seen snakes the week before. There was a Timber Rattlesnake (Crotalus horridus) out in front of the outcrop but it went into the crevice before I could get a picture.
We went up to the rookery area and the gray timber from the previous two weeks was out in the open atop the rookery rock. We snapped a few photos as it was found.
The snake decided to head to the shady area under the cedar tree.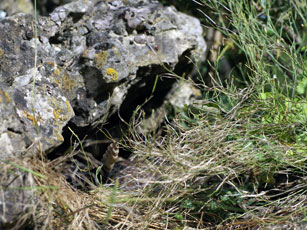 Here is a shot of the rattle as it crawled. Photo by Laura Scharosch
It ended up coiled up near a large gold female in the cooler shaded area. I didn't move the plants out of the way for the photos in order to minimize the disturbance to the snakes, especially since we have visited this rookery quite a few times this season already.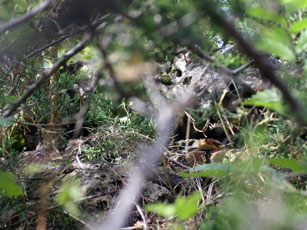 Both are visible in this photo.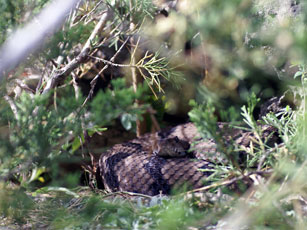 The gray, closer up.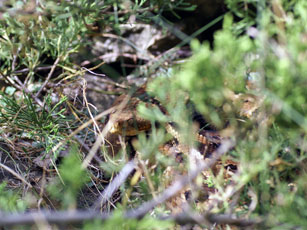 Another shot of the gold timber.
There was a third timber back in a crevice along the difficult to access front side of the rookery. I didn't make an effort to get a photo, again to minimize disturbance.
We got our work done and headed back to the car. We stopped at the outcrop where we had spotted the timber earlier and it had come back out and coiled up very photogenically in the dappled light of a small group of trees. This time she sat still and showed no sense of alarm at all. We took a few photos and left her to bask.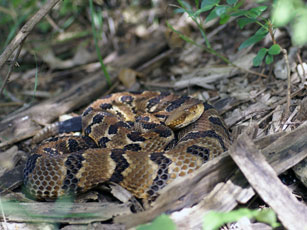 After we finished we drove to Dubuque to ride our bikes on the Heritage Trail toward Dyersville. Along the trail we found a young Milksnake (Lampropeltis triangulum).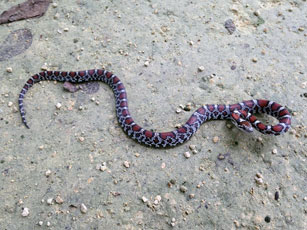 A while later we came upon an adult Eastern Gartersnake (Thamnophis sirtalis) crossing the trail.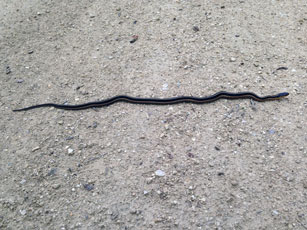 That was it for the day. We won't be visiting the timber rattlesnake rookery again until much later in the season, so that may be it for herping reports for a while.