8-29-15
Trip Details
Location: Jackson and Dubuque Counties, IA
Weather: 65 degrees, very humid and overcast, no wind.
Time: 12:30 pm - 2:00 pm
Herpers: Jim Scharosch
Account by: Jim Scharosch
Photos by: Jim Scharosch
I went out to a timber spot that we visit regularly to do a bit of work. There are a few small outcrops along the driveway into this spot and Matt often comments that someday we will see a timber on one of these outcrops. I was driving in alone this time, and it turned out that today was that day! It was the first time we he seen a Timber Rattlesnake (Crotalus horridus) anywhere near this spot.
It didn't want to sit, and it took off as I grabbed a cell phone shot to send to Matt. It went into a small crevice in the rock outcrop. It was a three foot long adult.
I drove the rest of the way in and started to walk up the bluff to where I needed to get my work done. On the way I stopped at a rock where a couple of timbers have been hanging out this summer, and they both were there again.
The first was a large dark brown gravid female.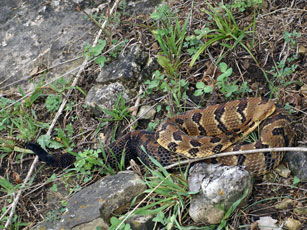 The second was smaller and more gold, but still appeared to be gravid.
I finished taking pics then continued up the bluff. At a rookery spot there were three timbers basking on the top of a large outcrop. I didn't want to disturb them any more than necessary so I took a couple of quick photos and moved on.
You can see all three in the first shot. The second photo is of the timber to the rear of the first photo.
I walked around a bit and didn't see anything, then I walked down to a spot where some cedars had been piled up from a cutting a few years ago. I peered over the edge of the outcrop and didn't see anything, but then turned and noticed that I was standing right next to a large timber.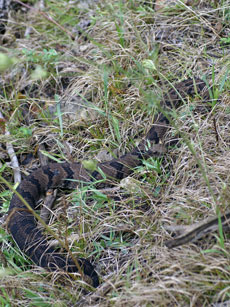 As found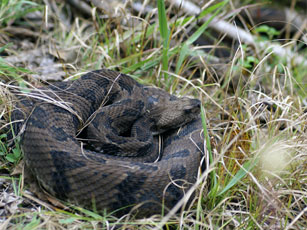 It was the same dark colored timber we had seen this spring, and it was no more than twenty feet from where we had first seen it. It coiled up and tolerated me taking photos.
After seeing all of the timbers at the north side of this spot, I decided it would be worthwhile to head back to the southern portion. I walked up the hillside and about halfway up spotted a smaller timber holding its head high as if it were looking around.
Maybe it sensed me and was trying to see what I was up to. I grabbed a couple of photos, but it didn't stay long. If you look closely at the second photo, it appears there is a blood-filled mosquito on the snakes head.
I only turned three rocks the entire day, and under the last rock, one we call "The Milksnake Rock", there was an adult Milksnake (Lampropeltis triangulum).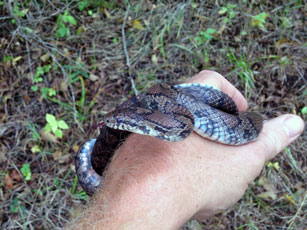 It was in shed so I only took a hand held photo before returning it to its hiding place.
That was it for the day. Eight timbers and a milksnake was pretty good for a late summer stop. Those female timbers should all be dropping babies soon, and soon after that the migration to the dens will start.